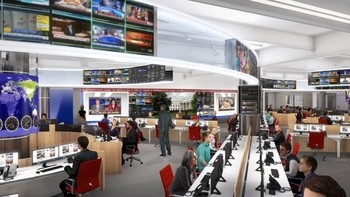 NYC duo Just Us deliver brand new single 'I Feel Good Love' | Out Now via Polydor
Steven Lee and Carl Kennedy, better known as Just Us flew into the spotlight last year with their debut single, 'Cloudbusting'. The duo's clever reimagining of Kate Bush's 1985 original received strong radio support from Kiss FM, Capital FM and BBC Radio One. The track hit #1 on the Radio One Dance Chart, earned Annie Mac's 'Hottest Record In The World', Danny Howard's 'Future Anthem' and gained support from key tastemakers including Pete Tong, Nick Grimshaw and Greg James.
CLUB KURU – New Track '49 Years' & Headline UK Tour
Having spent his childhood and university years studying jazz piano, Erskine set his sights firmly on the wild possibilities of pop's future and began to produce an ambitious, kaleidoscopic, psychedelic musical world, under the moniker Club Kuru.
Free Money Release New Single 'U GOT ME'
Free Money are a four-piece from East London. The new single is to be released via Buff Records and Communion Records. Fittingly it's Communion's first collaboration of this kind and also the first release for Buff Records,Dan White (Tribes) and Blaine Harrison (Mystery Jets). The mantra of Buff Records in many ways mirrors the ethos of how Communion came to be: an artist-led community focusing on long term growth and a DIY spirit. UGOTME is set for release on Sept 14th
Swedish pop duo I Am Karate release video for new single 'News'
Highly acclaimed Swedish pop duo I Am Karate have released the video for their new single 'News'. The video premiered with CelebMix who said, "I Am Karate are a fast rising pop duo from Sweden who are ready to takeover the world with their anthemic sound and slick productions. Their latest release 'News' is a massive pop anthem mixed with shimmering production, a bouncy tropical rhythm and a gigantic earworm of a chorus."
GIRLI Releases New Single "Young"
Exploring the difficulties of adolescence, "Young" is an anthemic track that sonically continues GIRLI's path towards the pop music she grew up listening to. With layered synths, nostalgic lyrical observations and a characteristically catchy chorus, "Young" sounds like energetic electro-pop from the future. Before release, GIRLI curated a Spotify playlist to help her fans guess the name of the single.
Royal Teeth share power pop anthem "It's Just The Start"
Royal Teeth share their newest track "It's Just The Start" today, following the heart-pounding comeback single "Never Gonna Quit" that "radiates resilience and perseverance" (Atwood Magazine) and featured Ellen DeGeneres' favorite viral sensation, fellow Louisiana resident Valerie Sassyfrass, in the music video. Now "It's Just The Start" really kicks things off for Royal Teeth in a way that builds vulnerability into unstoppable confidence.
Original Dodger release new EP, 'Momentum'
Legendary UK Garage duo Original Dodger (previously known as Artful Dodger) are back with their first EP since reuniting, featuring two new singles 'Bubblin' and 'Give You Up' feat. IDA.
She Makes War releases new single 'Undone'
Bristol based producer and creative indie powerhouse She Makes War releases her new single 'Undone', the first installment of the double A side 'Undone \ London Bites', taken from the forthcoming album Brace For Impact, which is out 5th October.
BURNS RELEASES NEW SINGLE "WORST" FEATURING JOHNNY YUKON TODAY
Today, critically-acclaimed, Platinum-selling electronic producer BURNS (aka Matthew James Burns) releases his brand-new single "Worst" featuring R&B singer-songwriter Johnny Yukon. The track is available now at all digital retail providers via RCA Records.
DAVID GUETTA DELIVERS HIS 7TH STUDIO ALBUM ON DOUBLE DISK "7"
'7' has been in the making for over two years and it was written, recorded and produced in Guetta's studios in Los Angeles, London and Ibiza. Featuring huge electronic pop albums, the album also has a second disc of underground dance tracks, recorded under Guetta's Jack Back alias.
RISE TO FALL publish new video for the single "In The Wrong Hands"
Spanish melodic death metallers Rise To Fall have published a brand new video for the single "In The Wrong Hands", which was taken off from the band's upcoming and fourth full-length, "Into Zero", which is set to be released on September 30th.
[EP Release] Nickel&Rose Release Americana
Opening with a dusty roll and sweltering haze, the EP from Nickel&Rose, Americana, tells the forgotten story of African music in roots and American music. A blend of traditional and cross-continental influence lay the foundation for a culture left behind. The EP echos a lack of representation, as expressed in the lyrics "The instruments from Africa are no longer for me, just like the songs we sang when we all wanted to be free." It is now streaming on Spotify.
Rosie Carney announces debut album / shares new single featuring Lisa Hannigan
Rosie Carney's new single, "Thousand," featuring acclaimed artist Lisa Hannigan will premiere online September 14. The track is the fourth to be released from her highly anticipated debut album, Bare, which is now is set for release January 25 via Akira Records/The Orchard.
Summer Heart teams up with Chicago Native Elias Abid for new single + 15-Date US Tour
Following on from his last record '101' from 2017, Swedish frontman David Alexander aka Summer Heart returns alongside Parisian auteur Elias Abid with their incredibly dreamy, self-produced collaboration 'Ace Of Pentacles', part of his new #12SongsOfSummer project.
After getting together in Elias' new home in Chicago, the pair quickly found an admiration for each other's music. With both harnessing a love for ethereal and chilled-out indie-pop, the duo quickly took the opportunity to bounce ideas off each other, resulting in the wonderfully sublime 'Ace Of Pentacles'.
Sub Focus & Dimension team up for new single 'Desire'
Sub Focus and Dimension have teamed up to deliver their brand-new track 'Desire.' The production is a vibrant display of both artist's signature styles following a huge year for both artists.
Dan Owen releases video for title track of acclaimed debut album 'Stay Awake With Me'
Poignant and moving, the video visualises the subject of the track, which is a beautiful ballad written as an ode to Dan's beloved grandfather, who passed away just before Christmas last year, written from the point of view of his grandmother – the pair met at an army base in Berlin as teenagers and spent 50 years together.
NEW MUSIC: GUCCI MANE x BRUNO MARS x KODAK BLACK RELEASE "WAKE UP IN THE SKY"
Gucci Mane is back with his newest single release, "Wake Up In The Sky," alongside Bruno Mars and Kodak Black. This marks the first collaboration between the three labelmates. "Wake Up In The Sky," produced by Bruno Mars, DY, Tre and Tarentino, comes off the heels of last month's "Kept Back" featuring Lil Pump. Both tracks, as well as spring's release of "Solitaire" featuring Migos, will be featured on Gucci Mane's forthcoming studio album "Evil Genius."
Honey Moon drop nostalgic retro-pop single 'Mover in the Dark'
Snare trills, melodic staccato guitars and barber-shop harmonies transport you through the decades, to a summer evening leant on a parked Chevy Bel Air by a dimly lit beach front. Like a hazy memory however, it's hard to locate exact feelings, and an eerie tone pervades: "Its vulnerability isn't laid quite as bare and its message not quite as obvious as in some of our other stuff. Kinda creepy, kind of 'dark' – for us cheesy boys, anyway" says ringleader Jack Slater Chandler.