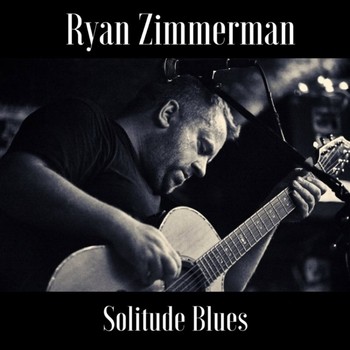 Ryan Zimmerman shares a last name with another famous singer/songwriter, Bob Zimmerman, although the latter is better known as Bob Dylan. This Zimmerman's single, "Solitude Blues" is a sad, acoustic blues song.
The track's lyric speaks to a desire to find "the way back home." Zimmerman sings it with the soulfulness of a bluegrass-folk singer. The instrumental on it features acoustic guitar, dobro, drums and likely mandolin. The song is put to a waltz time signature, although it isn't a song many would care to play at any dance.
On the plus side, Zimmerman sounds truly downtrodden and sincere. He makes the listener feel his pain, whether the listener wants to experience it or not. It's a little like one of those Townes Van Zandt songs, or any number of other talented Texas singer/songwriters.
At times, Zimmerman drifts off key. He's more of an expressive vocalist, than a naturally great singer. This song is more about telling a story, though, than showing off vocal cords. This song would have been even better, however, with a little more melodic inventiveness. It begins with just a few chords and doesn't really change much after that. A bridge with some different chords would have given the song some much appreciated melodic variety. Heck, even Bob Dylan – as rough around the edges as he can be – knows how to create a memorable pop music hook. There's nothing wrong with creating serious lyrics, such as these; however, there's also nothing wrong with coming up with melodies that are the proverbial spoonful of sugar, helping the medicine go down.
"Solitude Blues" is a song that holds appeal for fans of folk music, as well as those that enjoy bluegrass and rootsy Americana/country music. Zimmerman is a serious artist, and this song shows us he's not messing around. He wants to be taken seriously, and immediately earns our respect. Solitude is a real downer, and it's one state of being that oftentimes leads to the blues. One gets the impression that, as good as this song is, Zimmerman has even better songs in him. With his sound musical values and a commitment to keeping the music real, Zimmerman's prospects are bright.
https://www.ryanzimmermanmusic.com/
-Dan MacIntosh