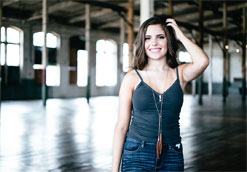 Lightbulbs symbolize illumination in the darkness, fresh ideas, inspiration, the sudden flickering into being of something new and worthwhile. Lace lights on a string and you've got a party decoration; color the bulbs and you're ready for the holidays. But lightbulbs are also made of glass and a thin filament – they're fragile, impermanent, all too easy to snuff. Throw the switch and you're back in darkness. Bump the bulb too hard and the glass will shatter.
"10 Feet", the debut video from seventeen old New Jersey singer, songwriter, and pianist Eliza Arnone, is busy with light bulbs. They hang in bunches from the ceiling of the post-industrial space she inhabits (for those interested in Jersey buildings with deep histories, it's the Art Factory in Paterson), they dangle from strings in the background of the performance area, their reflections are visible in the plate glass windows behind her. They're there to engender the play of light and shadow that makes Rob Fitzgerald's clip the lively thing it is. But they also signify the artist herself: the coming into being of a new voice. They represent her brightness, her passion, and her vulnerability, too.
The "10 Feet" single follows Red Coat, Eliza Arnone's 2017 debut full-length. Released when she was a sophomore in high school, the eight-track album introduced her as a multi-talented artist with an ear for a pop chorus and something meaningful to say. Although Arnone is young, she's already won the respect of the notoriously discriminating veterans of the Jersey music scene. Highly respected Studio owner and music educator Jody Joseph – of the Jody Joseph Bongiovi band – has been her mentor and vocal coach for many years. "10 Feet" was co-written by Jody Joseph and produced by Red Bank artist Nick Piescor, whose many credits include the 2016 album by the popular Jersey singer-songwriter Keith Egan.