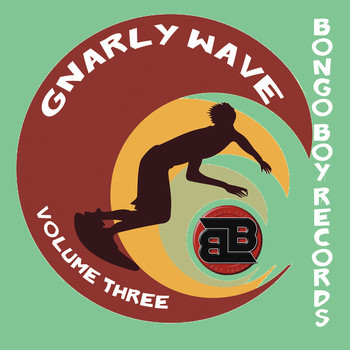 Agent Octopus plays with a classic bit of surf rock on "Baby Octopus Walk". The joyous energy of the piece becomes readily apparent quite quickly. Everything about the song feels acutely balanced and pitch perfect.
Intense energy pours from the B Breakers' wild "Whitecaps". Rhythms roll like akin to a grand force of nature. The beat has a physicality to it while the guitar soars up into the sky with the utmost of ease.
The laid-back grooves of "Beach Walk" display the confidence of the Del Mars. Layer upon layer of sound comes swirling into the mix, with the horns giving just the right punch. By rushing through swinging, the song expands the power of surf rock in such subtle ways.
Les Fradkin offers powerful, all-consuming guitar riffs on the aptly named "Wave Rider". Truly massive the song grows and grows in such an organic way. Full of fire and passion the piece has a great tenderness that underpins it.
On "One Wave" the Spy Tones strip things down to the essentials. Bouncing percussion works wonders giving the song a mystical tinge. Mellowed to its core, the dreaminess of the track gives it a surrealist bent.
Poppy to its very core, Susan SurfTone creates a colorful atmosphere on the hyperactivity of "Vortex '59". With a timeless classic style, the piece unfurls with such ease. Guitars weave together intermingling in a great woven web.
With "Ignite" LoungeZotica 3000 goes for a noir-like exploration. The jazziness of the track works to its advantage, giving it a thoughtful quality. Guitar playing has a limberness to it while the whole of the piece feels so vibrant.
Rollicking through its run time, the Chillers delve into a wild unhinged world with "Dragstrip". Full of a chaotic intensity, the song feels steady while it rushes through territory with gleeful abandon. Drums work on a rhythm as well as an emotional level while the track flirts with outright destruction.
Incredible guitars introduce the stylish "Spies All The Way Down" where the Spy Tones prove to have a deft ear for melody. Layer upon layer comes into the mix further giving the track a gorgeous hue. A sense of determination helps the piece along as it unfolds in unexpected ways.
LoungeZotica 3000 gets a bit of attitude infused into "Thunderwear". Flexible grooves reign supreme while the track has a spy-like quality to it. Nearly cinematic at times, the way the piece explores such a wide swath of territory feels beautiful.
Nicely bringing the collection to a fantastic conclusion is the Chillers' riotous "Stingray". Raw and gritty, the song represents the best of garage rock. With great rich grooves the piece feels positively flawless.
1. Baby Octopus Walk – Agent Octopus 2:31
2. Whitecaps – The B Breakers 2:54
3. Beach Walk – The Del Mars 2:54
4. Wave Rider – Les Fradkin 2:32
5. One Wave – The Spy Tones 4:53
6. Vortex '59 – Susan SurfTone 3:11
7. Ignite – LoungeZotica 3000 3:44
8. Dragstrip – The Chillers 2:21
9. Spies All the Way Down – The Spy Tones 3:33
10.Thunderwear – LoungeZotica 3000 4:29
11. Stingray – The Chillers 3:43
Site – https://bongoboyrecords.com/gnarly-wave-volume-three/