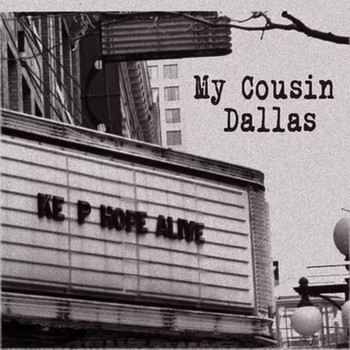 Have you ever been to Minnesota? Known for many great features including housing one of the most iconic known places ever built in the United States of America: Paisley Park—Home to the beloved angel, composer, musician, and soul, Prince, there is a lot to offer for the visual respective being wishing for something new to see. Sitting in one the most northern regions in the US Map, Minnesota has something piloting from her state walls, just about ready to explode, that is none other than My Cousin Dallas and their new single 'Stereo Multiplex.'
One would look at the name of this band out of curiosity and sit down to ponder just where a creative name like that came from. Was it because of a late cousin recently passing by the name of "Dallas?" Or could it be because of a present-day soul that has inspired such a sound? Whatever the case may be, the band, My Cousin Dallas, has something unique with their latest single, 'Stereo Multiplex,' and with its unique style of production, along with a very catchy rich spread of vocals and guitar, one might actually leave the question as exactly this: Where have they been all this time? To answer that simple question, it appears for a while now!
My Cousin Dallas consists of Minnesota Natives: Guitarist and Lead Vocalist Derek Anderson, Bassist and Vocalist Carl Di Laura, Percussionist and Vocalist Sam Crnobrna, and Lead Guitarist and Vocalist Bret Running! When you have an entire band where everyone plays something and also SINGS, this sets the stage for an awesome, remarkable sound! And it is no little sound at all as the band fuses together all their voices and musical styles to make that unforgettable moment that catches you by a total surprise just as the newest single, 'Stereo Multiplex.' At first listen, there is a fusion of old style "Rock-N-Roll" with a little bit of new school Luke Bryant as well as Jack Black and the School of Rock; while mixed with a whole lot of guitar, hard drums, and solid bass! ZZ Top could easily rock alongside My Cousin Dallas and even more imaginative is the fact that this sound probably could have been on the amazing Back to the Future Trilogy Soundtrack! Oh Yeah! Oh, Yeah!—And they said it first, oh yeah!
'Stereo Multiplex' is the coming of sound in a whole new way! Hard guitar, solid foundational rhythm and a simple story: Psychedelic mood and if that needle does ever hit the record allowing for those lights to really go off, My Cousin Dallas probably will light the night like a Fourth of July Fireworks show! They make the music fun, give it to us raw, and allow us a moment to connect with them like the first dance we ever got a moment to go to as a middle schooler…Some things are never forgotten and they give us rock like it was back in the days of true music! For that, what an appreciation as well as a stress reliever for being introduced to their whole style?
Every now and then, newcomers come along and set the stage to present the world of music something new to try. Like a chef serving the newcomers cuisine to win them over, My Cousin Dallas has done just that with 'Stereo Multiplex.' It would not be a bad suggestion to go and check them out as four guys that all can play and sing together have something very unique going on! This is a surprise summer smash that I feel everyone will enjoy these last days of Summer and 'Stereo Multiplex' comes highly rated! Support true artistry and please go check them out in a venue near you!
https://www.facebook.com/mycousindallas/
Rating 10 / 10
K.Tibbs