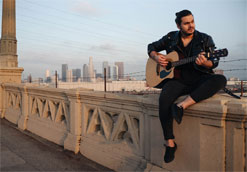 Sean Darin is an Eastern European producer with international influence. Experimenting with electronica and progressive house, he's a standout act. Sean Darin has released songs on the labels of successful artists like Armin van Buuren and the late and great Avicii. Through his unique beats and sound production, he is able to convey subconscious emotion, showing both light and dark sides with ease. Refusing to give into fear, he carries the torch for artists to share their intimate experiences on a global platform- burning in diversity and connection.
https://www.facebook.com/seandarinofficial/
Sean Darin started producing beats in 2013 and it took off from there. To get more press he participated in various competitions and gained important connections. His 2014 track "Don't U Mind" landed on the Italian national hitlist. A year later he produced the Dusk Till Dawn project; his single, "Sit and Wait" has acquired 9 million plays on Spotify. When he is not putting out his solo work he is remixing for some of the most notable Hungarian artists. 2016 was a breakout year as his song "Bad Luck" got nominated for the annual Music Video Review and his remixes became some of the most played songs of the year. Now, he's promoting the song "California", which takes us on a trip through his mind as he has time to process these last few and fast years.
In "California", Sean Darin teams up with Hungarian-American singer and songwriter Kállay Saunders. As one of the competitors of the Eurovision Song Contest in 2014, Saunders is not a stranger to the Hungarian Charts. Perfectly paired up, the video opens up with the shot of the ocean as the waves collapse onto each other. Sean Darin directed the clip and wrote its story, wanting to show the world California's beauty in a realistic way without fake smiles, filters, or artificial beauty. Contrasted by the lyrics and the slow-paced production, he is internally missing the source of his unhappiness and heartbreak that he tried to escape from. As the video continues, his dependency submerges him and allows his world to go black. As the video closes, Sean Darin picks up his phone ready to face his demons- but he is on the other end. "California" shows that there's a parallel between the love he has for a woman and the love for the motherland you leave.