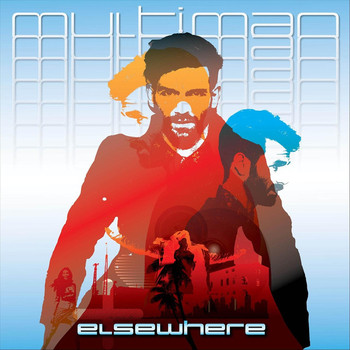 Boston based rock band Elsewhere have been making thought provoking music for a couple of decades now, and anyone who has heard their work knows that the band's sound is one of a kind. Tinged with trippy, progressive-minded psychedelia and steeped in punk simplicity, Elsewhere have never been unclear about their creative mission; making music that is completely authentic and original every single time. In their new extended play Multi-Man, which released at the end of August , we get to see a side of the band that we've never seen before, one that is deeply connected to our modern times and is relentlessly devoted to not just keeping with the pace of culture but setting it all together.
Multi-Man starts off with its title track, a mood-setting rock anthem that rips out of the gate strong and doesn't slow down for even half a second. It's a theme that becomes present throughout the whole EP and one that showcases Elsewhere's affection for punk rock ethos. It isn't often that I'm able to say this, but I didn't get bored listening to this extended play from beginning to end, which is something that I've found is more likely to happen with shorter records as opposed to full length ones. There's too much energy, too much ecstatic rhythm to break our focus away from the band and their angst-ridden discharge. I've been a heavy critic of rock n' roll as a collective genre lately, but Multi-Man did a pretty good job of shutting me up for the time being.
With so many sonic layers and expertly devised arrangements to behold in Multi-Man, I was halfway expecting a more pretentious, artsy construction of this EP than what I ended up actually listening to. This is really well thought out music, stylish and evenly tempered, and when you factor in the total lack of megalomaniacal attitudes (which sadly come standard with most rock records that are this ambitious), you end up with something that is beyond special. You end up with – dare I say it – something legendary that has the potential to influence a new generation of similarly minded musicians for the better. If that isn't an artistic achievement in itself, I don't know what is.
If you love pop harmonies that are delivered at a scorching volume with nothing to hold back their tenacity, Elsewhere is a band that you need to have on your radar.Multi-Man is a great sample package of tracks that adequately give listeners a glimpse into the identity that this band has built around themselves, and it is by far the most well-rounded set of rock songs that I've had the chance to review over the last summer. I look forward to seeing what they produce over the next couple of decades, and if this extended play is any sort of indication of what we can come to expect, I think the next twenty years are going to be even more fun than the last.
http://www.elsewhere-band.com/
Thomas Patton, III