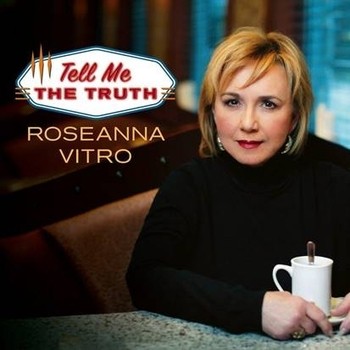 Roseanna Vitro's "Tell Me The Truth" serves as a bold, sophisticated statement, with a tasteful quality that feels transcendent. Her powerful voice rests at the heart of it all. Elements of jazz, the blues, rock, even funk, come into the fray. Production values sound flawless while she spins entire universes so leisurely. Quite graceful the whole of the album lingers in the mind working together as a singular unified whole. Instrumentally she incorporates a wide slew of colors, going from taut guitars to fantastic luxurious horns intermingled throughout.
A great shuffle opens the album on stately "On Your Way Down". Stripping things down to the essential groove is the nighttime introspection of "Walkin After Midnight". The playfulness of "Respect Yourself" possesses a tremendous swagger to it, from which all else flows. By far the highlight of the album comes from the sprawling and ambitious atmospheric spirit of "I'll Be Long Gone", where Roseanna Vitro displays her uncanny storytelling abilities. Reflective to its core "Foolin Myself" has a dreamy, surreal aura to it. With the title track "Tell Me The Truth" she takes on the contemporary state of the world and does so in the cleverest of ways. Sly rhythms radiate throughout the exploratory realm of "Healin' Song". Nicely bringing the whole of the album to a satisfying conclusion is "I'll Fly Away".
"Tell Me The Truth" shows off Roseanna Vitro's uncanny ability to set the mood, with lyrics that feel universal yet also surprisingly timely.
Stream – https://roseannavitrojazz.squarespace.com/media-1
By BeachSloth