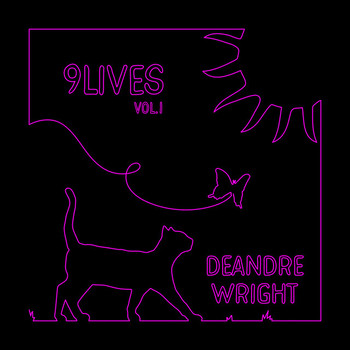 Deandre Wright's neon-hued pop bliss of "9Lives, Vol. 1" goes for a soothing sort of celebratory world. Catchy grooves are scattered throughout the whole of the album while everything comes together in unexpected, dazzling ways. Her voice possesses a unique sensuality to it, while she incorporates a wide variety of approaches throughout the whole of the collection. The range from whispered odes to full on anthemic delivery, ones that simply soar off into the sky. Infinitely tasteful, Deandre Wright proves to have an uncanny ear for melody, letting songs grow organically.
Great thick funk grooves start the collection off with such majesty on the impressive physicality of "Nola". Here Deandre Wright's voice works wonders as the whole of the song has an uncontrollable giddiness to it. Nimble layers come together on the playful "Don't Leave Me" whose tenderness feels quite welcoming. Elements of electro, pop, and EDM merge to become a singular stream of consciousness sort of tact. Great spaciousness defines the gorgeous "Strangers" where the lovely lyrics define the work. Proving to be a tender ode of compassion "Strangers" has a great thoughtfulness to it. By far the highlight of the collection emerges on the classic rock nod of "Into the Sun" where the sun-drenched, psychedelic blues adds to the power of the piece. Elegantly bringing the whole of the piece to a close is the sparkling "Life Happens".
http://deandrewright.com/music/type/ep/
"9Lives, Vol. 1" shows off Deandre Wright's thoughtful work, displaying a world that feels so vital and real.
By BeachSloth