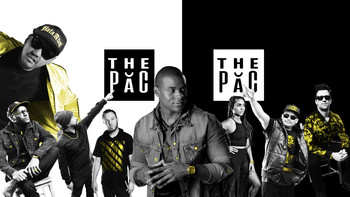 The PĂC goes for a soulful timeless sound with their meticulous cover of "Love's Holiday". Updating all the right little elements, they maintain the romantic tenderness of the original while offering their own unique take. A full, rich sound helps to guide the song along for they incorporate a wide variety of instrumentation into the mix. From the strings to the horns, everything about the track feels positively massive. By far though the true heart comes from the honeyed vocals, which really imbues the piece with a tremendous degree of life.
Going for a large, triumphant open not a moment is wasted. Immediately the strings enter into the fray. When the horns get into the mix the song truly means business. An incredible rhythm section helps to anchor the piece, framing it just right. The balance within the arrangement is gorgeous for everything has a great level of thoughtfulness behind it. Virtually gliding the vocals have a tremendous joy behind them, with the backup singers adding to the pure optimism that radiates from the piece. Such happiness works through the song, lending it a sweeping quality. Layer upon layer of sound flows through in a way that has a naturalistic air to it. Buildup becomes quite important for the latter half of the track grows into a stately graceful ode to love.
With "Love's Holiday" the PĂC completely let loose, resulting in a sound that feels so vibrant, luxurious, and with a great swath of fantastic color.
By BeachSloth