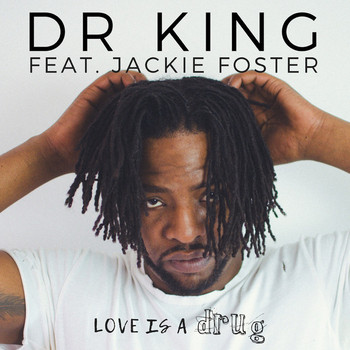 This is a crucial moment in the storied history of R&B music. 2018 has seen a flurry of talented soul singers rising to the forefront of culture like no other year in recent memory, and it's been impossible not to notice the enormous spike in R&B's international visibility as a result. One of the most evocative and skilled singers to emerge in this new movement is none other than DR King, who most audiences were introduced to during his stint on NBC's hit series The Voice. He's got a new single entitled "Love is a Drug," which features his fellow contestant Jackie Foster, and to say the buzz surrounding its release is larger than life is an understatement of criminal proportions.
In "Love is a Drug," King and Foster play off of each other's cues with such ease and chemistry that it's hard to believe they only started working together after meeting on The Voice. You could've told me that they had been lifelong friends who grew up making music together and I would have believed you completely, as the fireworks they generate in this track are nothing short of pure magic. This might be a DR King song, but it exhibits the talents of Foster with just as much zeal and gusto as its headlining artist.
One of the things that I love about DR King is his incredible versatility. His style of singing has immense crossover appeal to fans of almost any genre or age group, which isn't something that I can say for any of his contemporaries. "Love is a Drug" has the bones of classic soul but the panache of a stylish club track which was co-written with Brielle Brown and Producer Marc Swersky Whether you're soundtracking a night on the town or just a chill evening at home with your mate, King and Foster have got your needs covered with this delightfully groove-laden song.
In addition to his nimble approach to recording his vocal parts, DR King has proven himself to be remarkably gifted at delivering lyrics with a powerful dose of sincerity that is reminiscent of pop music's most iconic figures. You can tell that music means absolutely everything to this man, and that his very life has been shaped by the craft that he has given all of himself to. His devotion is inspirational, and his attention to detail is very noticeable in the finished product itself.
Pop culture is commanded ultimately by the most innovative minds in society, wall of whom are artists in some fashion or another. With "Love is a Drug," DR King shows us that he plans on being here for the long haul, and he doesn't just have the chops to make it in primetime, he's got the ambition to take over the entire game. I can't wait to see what he does next with his music, and hopefully it won't be too long before I have the chance to review a full-length album from this deeply exceptional singer and performer. Until then, "Love is a Drug" and its swaggering beat will have to suffice.
https://www.instagram.com/drkingnyc
Thomas Patton, III