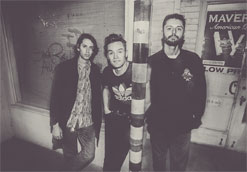 Filmmaking technology has come a long way since the mid-sixties. Yet for certain aficionados, there's no substitute for the look and feel of Super 8 film. There's a fragile quality to Super 8 – a visual vulnerability – that has long drawn independent filmmakers to the format. Super 8 movies already felt nostalgic when the technology was new; more than a half-century after its invention, Super 8 still has the power to plunge the viewer into a hazy, half-remembered past. The same can be said about the music of SadGirl, a Los Angeles band that has recently been making waves far beyond Southern California. They're a young band that draws from old sources: surf music, '50s and '60s movie soundtracks, the weirdest Elvis records, very early soul, proto-punk, and garage rock. Because they know what to adopt and what to discard, they're able to make the sounds of the past feel fresh and exciting – and modern, too. And while frontman Misha Lindes would look like a rock star in any film format, Super 8 feels like his natural home.
"Breakfast For 2″, the latest single from SadGirl, is another look back – not just at rock and punk as it was, but also at an earlier chapter of the band's career. "Breakfast Is Over", independently released in 2015, established the SadGirl sound and stance: dreamy, warped, echoed, lovelorn, more than a little belligerent. "Breakfast For 2″ turns up the lushness, and the heartbreak, too. It'll be the band's debut release for Suicide Squeeze, the Northwestern label that specializes in warped, offbeat, impossibly catchy punk rock. And on the flip side of the single? It's a version of "Jack The Ripper", the 1961 classic by the Rock and Roll Hall of Famer (and original punk rocker) Link Wray.
To make the clip for "Breakfast For 2″, SadGirl turned to The Giraffe Sisters, a pair of underground multimedia artists with a long track record of provocative works. Nicky and Juliana Giraffe share Misha Lindes's aesthetic sensibility: they're attracted to the mystique of the past, the bizarre and mis-remembered, the allure of weird old Hollywood. Juliana Giraffe (who is also a talented musician and visual artist) stars in the gauzy, wonderfully bleary clip, right alongside Misha Lindes, who wrote the story himself. The pair cover plenty of territory in two and a half minutes, clearly establishing their twisted and damaged characters and drawing the viewer into an obsessive drama of romance, triangulation, and a tragically unfinished breakfast. The "Breakfast For 2″ video feels unearthed from a time capsule – a short from a more adventurous era in the history of filmed entertainment. Luckily for us, this is a modern-day collaboration, and it's one that promises more brilliance to come.