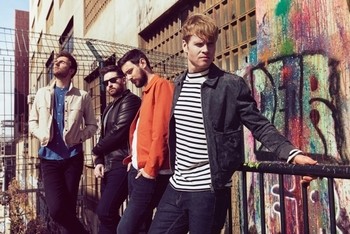 Kodaline release their brand new single 'Head Held High' taken from their eagerly anticipated new album 'Politics Of living' impacting September 28th on Sony Music.
'Head Held High' is a mandolin-driven slice of summer pop with a powerful message guaranteed to put a smile on your face, and is one of the standout tracks on a new album that sees the band stepping in a bold new direction.
'Politics of Living' sees Kodaline team up with some of the hottest production and writing talent imaginable including hitmaker supreme Steve Mac ('Shape Of You' by Ed Sheeran), pop guru Johnny Coffer (Rag'n'Bone Man, Beyonce), Jonas Jeberg (Dizzee Rascal, Kylie Minogue), Stephen Harris (Miles Kane, Kaiser Chiefs) as well as long-time collaborator Johnny McDaid ('What About Us' by Pink).
Their new sound germinated during sessions with Kygo two years ago on the global hit 'Raging', and was quickly followed by last summer's radio mainstay 'Brother'. Earlier this year saw the release of one of their best ever singles, 'Follow Your Fire', a slice of powerhouse pop, which showed the band are ready to cement their place amongst the UK's best in 2018.
The video shot by director James Fitzgerald, follows a school dinner lady's dream of auditioning for the school musical. Watch it here: