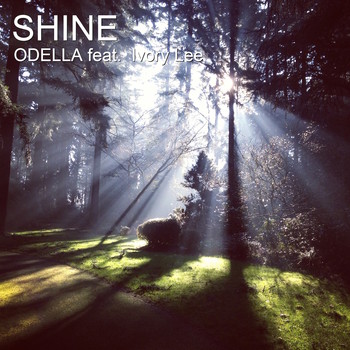 The perfect title for this song because it shines through instantly from the moment you hit Play to the very last note. "Shine" delivers on all levels with a catchy hook that never quits. Odella has created a track that can be enjoyed by many people from all walks of life. With its simplicity and positive vibe, it's easy for one to latch onto this song and not let go.
What I love about Odella is that no labels are needed because it's just about the music at the end of the day with no added filler. What you get is a wide array of styles & elements all coming together in perfect harmony. Odella has a large music catalog that incorporates a variety of genres and can be used for the purpose of TV, film and other media along with being sent to artists. Odella is not pigeon-holed at all and has no restrictions or boundaries when it comes to making music and that's a beautiful thing!
"Shine" features Ivory Lee on vocals and must say that he provided soulfully, rich vocals. Together, this duo produced a track that has a killer dance groove and Pop-friendly beat with a little R&B influence. The song really moves and makes you want to get out on the dance floor and boogie down. "Shine" sounds like it should be on the Top 40 Dance Charts right now with its catchy flavor and fun demeanor. The track POP's out and is so damn lively, which will automatically put you in a swell mood. Seriously, if you can't get any enjoyment out of listening to this club-worthy gem, then you have no Soul and you have no "Shine"!
https://www.odellamusiccomposer.com/
By Jimmy Rae (jrae2@att.net)