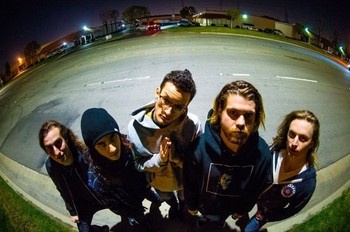 Pennsylvania metal band Tallah released their official music video for the single "Cottonmouth" off of their self released EP titled NO ONE SHOULD READ THIS. The video, directed by Tallah's very own Max Portnoy, is the follow up to Tallah's debut single and video "Placenta" which was released last month to great acclaim… reaching over 150K streams and 70k views in less than a month. The band has announced tour dates with A Killer's Confession and New Fiction that began August 19th at Hot Rocks in Warren, MI, and concludes on September 16th in Reading, PA.
"We purposely went with the most extreme song on the EP for our latest video… and the video is just as brutal visually as the song is musically." – Tallah
The hard hitting Nu-Metal revamp consists of 5 uniquely different songs with a new age, hardcore influence. Tallah wanted to capture the raw, live sound that they deliver on stage and bring that to their EP, giving the listener the feeling of being immersed into a live performance.
Tallah is a Philadelphia based band with Justin Bonitz on vocals, Andrew Cooper on bass, Derrick Schneider on guitar, AJ Wisniewski on guitar and Max Portnoy on drums. They share a passion for playing intense, angry, loud and heavy music. Tallah relies on the spirit of innovative metal realized thru panicked guitar screams, driving bass with deep, dirty tones and the merciless, pounding rhythms of the drums to create their aggressive and chaotic sound!