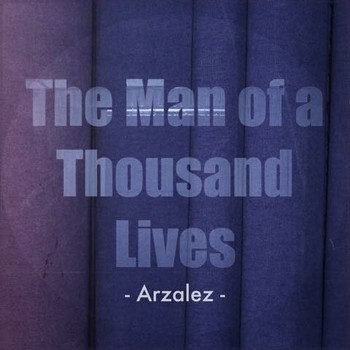 Fire and passion pour through the whole of Arzalez's "The Man of a Thousand Lives". Done with a theatrical flair, Arzalez's lyrics are full of poetry. Everything works in a perfectly balanced way, from the attention to detail to the highly emotionally wrought vocals. Jazz, pop, and a hint of blues come into the fray making the piece a true stylistic tour de force. By opting for such an all-encompassing sound, Arzalez ensures that every single moment is carefully considered. Incredibly honest, the way the piece evolves gives it a naturalistic air, with everything blending together into something that feels so vital, so real. Indeed, the song truly deserves to be played at maximum volume.
Piano introduces the track with an uncanny sense of grace. Vocals rise above the arrangement, smooth and recalling Jon Brion's earnest soundtrack work. Rather cinematic the piece builds up in a gorgeous way. When the song truly begins everything works in service of the fantastic beat. From the usage of the light electronics that pulse just beneath the surface to the constantly increasingly steadiness of the beat, everything simply works. Embarking on a grand journey, Arzalez offers snapshots of a life lived with such consideration. By the final stretch of the piece the whole of the work reaches a gorgeous crescendo, one where everything feels so raw, visceral, and earned.
"The Man of a Thousand Lives" shows off Arzalez's impeccable skill as a fantastic, engaging storyteller who sings straight from the heart.
By Beach Sloth