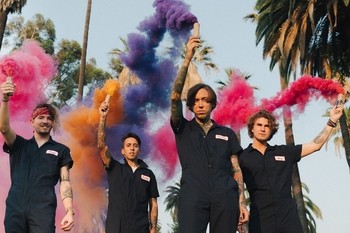 SWAY are thrilled to share their brand new music video for "Naturally" today, August 24th, 2018. The backdrop of a retro amusement park in California with a scenic view combined with the muted color palette gives the video a cool, hipster feel. The video follows four girls, who were specifically cast to look like SWAY themselves, lip syncing the song as they run around the park. At the end, in an amusing turn of events, the real SWAY members reclaim their instruments and drag the girls off.
Daniel Juter, SWAY's Swedish bassist, said about the video shoot, "We had such a blast shooting the 'Naturally' video with the girls! We wanted them to look just like us, so we outfitted them with some (fake) tattoos that perfectly matched our own. It was so fun painting on everyone and I was impressed at how great they turned out!" With a passion for ink, Daniel practices tattooing in his spare time, whether on his own legs or on a fellow band member at SWAY HQ.
SWAY is Dark Pop. A sound that can move you in any direction in a wave of upbeat, modern 80's synth pop with a touch of darkness. The brainchild of Freddy Hale, a Swedish-American singer-songwriter, SWAY combines elements from all of the music that Freddy loved growing up, but he's transformed it into something real for right now.
The music came to life in 2016 when Freddy and Niklas Myrback, a Swedish guitarist with a very refined and minimalistic, yet powerful, style, began shaping and perfecting the songs in Hollywood, California. Cadu CJ was next to join the team. A Brazilian drummer living in Los Angeles, he was drawn into the project by the unique music that Freddy produced and ended up adding the right amount of punch to accentuate the sound of SWAY. The group became complete in early 2018, when Swedish bassist Daniel Juter joined the project, seamlessly the missing link the boys needed in order to create the Dream Team.