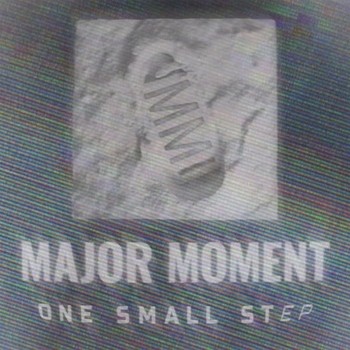 "Around the World in Eighty Days," is a true classic and amazing novel by French writer and imaginative spirit, Jules Verne that was published in 1873. In this amazing tale in which two men set out to navigate around the world in 80 days on a 20,000-pound wager by their friends. What does that have to do with this moment in time? A lot, ACTUALLY! When you have an amazing band that brings something eclectic, rich, and explosive, the first thing you often do is look them up and find out where they are from! Amazingly, the band, Major Moment, has a new EP out called 'one small stEP' and it is good!
Having a residential location of Boston, Massachusetts, the four members consists of Vocalist and Guitarist Andrey Borzykin; Lead Guitarist Gabriel De Mattia De Oliveira; Vocalist Alexandra "Sasha" Razumova, and Drummer Adam Soucy. Russia, Brazil, and the United States of America are all the locations that make up this wonderful band as they all met in Boston initially. Digging into ' one small stEP,' there is a major combination of cosmic feeling—-off to Jupiter with the cosmic warmth that is directly felt in the sound. Mixing an alternative funk, live orchestration, and gravity, there is a little to offer for any listener.
The opening intro allows the ideas to be heard from the first note played. Major Moment starts the EP off with a very groove based soundtrack feeling introduction…At first listen, the band has a truly wonderful blend of rock meets alternative electric. The band has a comparative sound with the James Bond theme-based opening songs that everyone grabs their seats to watch and listen to! There is a similarity between other great rock acts such as Green Day, Limp Bizkit, Eminem musically, Evanescence, Slipknot, Metallic, Coldplay, and Linkn Park. There's a lot of action going on musically, which totally works for the listener! The next song, 'Before It's Too Late,' comes on screaming a mellow gliding guitar that noticeable drives the song in portions making it the captain of the ship. The message is simple: Take everything in before it is too late! Unlike just ending a song, the band enters into a twilight zone by giving you interlude music after each song and THAT takes skill to do! Very refreshing!
The next three songs include 'Mistakes, What It's Like, and How Would You Know.' 'Mistakes' comes through demanding attention. And just as the title suggests, it is a person going back in time retracing the memories of a past love. Trying to figure out what all went wrong, this song suggests that help is needed. Love is crazy especially when you lose it! Powerful song! 'What It's Like,' is a song about a person wishing to change some of the stuff done wrong! And they also wish that the other person could actually accept their faults as well! We all have something to lose in life! 'How Would You Know,' is the EP favorite. This vibe is totally 1990s screaming Red Hot Chili Peppers or R.E.M. The guitars on this song are mesmerizing as they are carrying the weight of the song and when the measurement is not in pounds, there is so much to lift! The message of the song is to not blame yourself when someone else has another method of how they choose to live. People often blame themselves when rejection or loss occurs and this song is just that song to help you cope with those moments. A personal favorite for sure as it is still playing currently!
The very last song on the EP is 'The Release.' It would make perfect sense to sit down and unwind with this song. A piano ballad that bursts into flames is exactly what this song is. The melody, the production, the arrangement, and the power within the song alone all make this EP worth a true listen! Arpeggio is used throughout this album but THIS SONG ALONE TOOK MY BREATHE AWAY. It has a way of making you forget your bad day while also motivates you to continue looking forward through the darkness. The melody has a driving force within it and causes a reaction in your head, heart, and soul. But then it travels to a dark place. The transition is almost like someone just woke up in a place they are not familiar with, with an almost "To Be Continued" sign left hanging out.
Very rarely do I come across acts that have the "Wow" factor written from the start to the finish but it was really achieved just in the 'one small stEP' EP. I see the way that the pronunciation and written form of the title says it all as you actually step and walk throughout the entire EP. It was a pleasure hearing this EP and it is a true reward for anyone out there to give this band an opportunity to play for you! With Russian, South American, and American cultures steaming throughout the physical makeup, there is no telling what the sky or limits may be! This EP comes highly rated and I suggest that you go and find a venue with them headlining soon as a live show has to be the most amazing display of musicianship ever!
https://www.majormomentband.com/
Rating 10 / 10
K.Tibbs