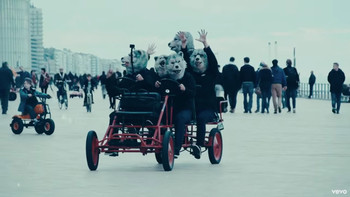 Japanese superstars MAN WITH A MISSION have released the video for 'Hey Now', taken from their new album Chasing the Horizon, out now via Century Media.
Featuring footage from their recent headline touring, the video sees the band thrilling fans with their electrifying brand of rap-rock and feral energy. The track is taken from their brand new album Chasing the Horizon. The album is the wolf collective's fifth in their native Japan, but their first new album to be released worldwide and it has received great critical acclaim.
The album features the previously released singles 'Take Me Under', 'Winding Road', 'Freak It! feat. TOKYO SKA PARADISE ORCHESTRA', 'My Hero', 'Dead End In Tokyo', 'Find You', 'Dog Days' and '2045', which have clocked up multi-million streams across YouTube and Spotify. The international physical 'World Edition' also features exclusive special bonus tracks including 'Mr. Bad Mouth', 'The Anthem' and 'Brave It Out'.