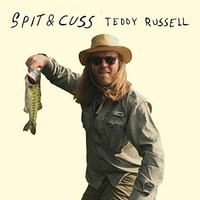 If you've been following country music's vibrant underground lately, then it's quite possible that you've come into contact with the massive hype surrounding the release of Teddy Russell's upcoming rookie LP Texas Soul, which has quickly become one of the most anticipated albums of 2018. I myself have never been much for buying into hype, regardless of who or what it's concerning, but when I heard "Spit & Cuss," one of Russell's first singles from Texas Soul, I started to believe the crowded mob of listeners, critics and industry insiders. Teddy Russell might be an obscure character today, but after Texas Soul hits college and specialty radio this September, his ascent to superstardom could be inevitable.
"Spit & Cuss" is a rollicking, freewheeling pastoral country song that is heavily influenced by alternative folk with a splash of southern blue-eyed soul, blended together in this case to make a very down home, bittersweet ballad. When I was listening to this song for the very first time, my mind couldn't help but drift to images of backyard BBQ's and lazy summer afternoons spent in the heat of the sun. Russell's music is relatively simple in its structure and delivery, but he has an almost magical way of making us visualize almost every note that he plays.
While the instrumentation of "Spit & Cuss" is absolutely superb and presented to us in crystal clear high definition audio, I found Teddy Russell's voice to be the real star of the show. Country singers are frequently accused of blending together and becoming indistinguishable when it comes to their range and depth, but Russell's smoky croon is impossible to mistake for anyone else's. He's easy going and yet incredibly brooding, almost a perfect balance of contrasting emotion and physicality, which is further balanced through the creative, unpredictable rhythm of the track.
You can tell that Teddy Russell lives and breathes music. His passion shows up in his music in the most intriguing and thought provoking ways, whether it be in his particularly swaggering verse-chorus transitions or his clever use of major key guitar chirping as a means of breaking up the dirge of the bassline. If he recorded this song in less than a hundred takes, I would be downright shocked. I'm curious if all of the songs we're going to hear on Texas Soul are as calculated as this one; something tells me this is just a glimpse of what he's truly capable of.
Whether you're a hardcore country fan or just a casual listener who enjoys any well-produced piece of music, I think you're going to enjoy what Teddy Russell is doing right now with his work. I'm a big believer in first impressions, and though I have seen a number of artists who grew into their sound over time and eventually became quite formidable players in their scene, it's the cats like Teddy Russell who grab my attention from the beginning who tend to be the brightest shooting stars. This is a great way to debut, and from where I stand it looks like things can only get better for this aspiring songwriter and his intriguing sound.
AMAZON: https://www.amazon.com/Spit-Cuss/dp/B07GCGNL1H
Thomas Patton, III