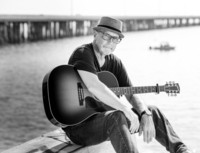 It's easy to warm up to Norm Brunet's conversational singing style throughout It Don't Get Much Better Than This. Although the Jimmy Buffett-ready "Good Times and Tan Lines" supports this album title, "Pour Me Another One" is a wonderful – but also sad – drinking song. When drinking away one's sorrows, well, life can't get any worse than that.
Brunet may be from Canada, but he sure sounds American, the same way The Band did, back when they were supporting Bob Dylan. True country fans are sure to love "Pour Me Another One," as it's colored by stellar steel guitar. The album's title track is a celebration, albeit a careful joy expressed. Brunet sings about enjoying life, yet still describes some of life's hardships. That's what makes good country music so good; the ability to find a balanced view of life.
With "I Will," Brunet sings a really nice love song. It's quiet, sincere and effective. Listen to the intro to "Like Out of a Dream," though, and tell me you don't immediately think John Mellencamp. It has a sort of winning "Pink Houses" groove running through its intro. The rest of the song doesn't all sound like John, but it has enough of the Indianan to give you a buzz when listening to it.
No matter what he's singing about, Brunet's voice makes you believe he's singing from his heart. He has a troubadour tone that oftentimes brings Slaid Cleaves to mind – in all the best ways. The listener can't help but believe Brunet has lived every single song he sings. There are some country singers (Joe Nichols, George Jones and Waylon Jennings come to mind immediately) where a beautifully natural singing voice is the first thing that hits you. Not always so with Brunet. This is probably a good thing, though, because Brunet makes you quickly focus on his words. He sounds like a friend at the bar telling you about his life, both the good and the bad.
Guitar is the primary instrument for much of this music, although "Put Some Life Back in My Life" includes some energetic honky tonk piano. "Out of The Blue" is a little unusual, as it's a breezy little tune. It doesn't have the same old school country vibe running through it. Nevertheless, Brunet sings it well, as he sings everything else on this effort.
You don't find many hardcore troubadours anymore. Norm Brunet may be – as Steve Earle describes himself – one of the last. This is good stuff, and well worth supporting.
-Dan MacIntosh