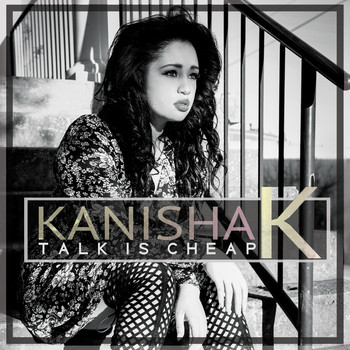 Kanisha K's "Talk Is Cheap" is the new single from a vocalist and songwriter whose rapid rise through the ranks has turned her into one of pop music's most promising new talents. Her work with Grammy nominated songwriter Jane Bach reaches its zenith, thus far, thanks to its unfettered musical focus, rich gravitas, and strong melodic virtues. The track opens with some muscular drumming and the instrumentation comes in with a warm and tastefully "live" production sound. The acoustic guitar work carries a lot of the song's melodic quality, but there's some fluency in the blues coloring the arrangement that juxtaposes nicely with Kanisha's vocals.
The vocal melody has a satisfying swing from the get go and it's impressive how much growl she can manifest in her voice without ever sacrificing phrasing nuance. Her versatility as a singer comes off in an effortless way – she definitely relates to the lyric and thus gives herself over to the song with the sort of engagement we associate with experience lived, but she's also an obvious band singer rather than a vocalist belting over the top of the band rather than working with them.
There's a rough hewn personality emerging from the lyrical content, a sense of disillusionment with deception in all its forms, It isn't so involved that it weighs down the instrumental performance or arrangement in any way and certainly hits a traditional note despite the thoroughly current sound. Many listeners are going to note how dramatic this track is – it's been written with an ear turned towards making the most of its peak emotional moments and benefits from a singer more than capable of reaching great heights. The chorus, naturally, is especially powerful.
http://itunes.apple.com/album/id1412981639?ls=1&app=itunes
The song is less than three and a half minutes long and has an internal engine, thanks to its rhythm section, helping it to maintain a steady, fluid pulse. "Talk is Cheap" shows Kanisha K continuing to dig her heels into an increasingly signature style mining familiar musical territory, a little country, a little pop, but remaking it to something that's all her own. A big reason why is because her impassioned, indomitable spirit burns through in every second of her music. She's exploring the breadth of her talent more and more with each new release and her potential seems boundless at this point.
https://www.instagram.com/kanishak0342/
She has the good sense to work with some of the music world's elite talent. From her Joe Vulpis written and produced debut single "Oh Damn Yeah" and the later "Never Stopped Loving You", her aforementioned work with award winning songwriter Jane Bach, and renowned Nashville producer Robyn Robins, Kanisha K has soaked up a lot during the first lap of her recording career and she clearly has the talent for the distance a long and storied career entails.
Clay Burton