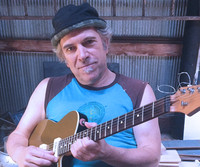 It's a little tough to reconcile Randy Forte's Americana sounds with his influences, which include a whole lot of progressive acts (including David Bowie, Talking Heads and Brian Eno). From the sound of Chas Randall, one might have expected to read a whole lot of country dudes at the top of his list.
Furthermore, this 11-song set opens with "Six Beers Away (From Crying Over You)," which is about as countrified as song titles get. Forte, who began singing in church in Alabama, sings this one with a pronounced Southern accent over a gently loping rhythm. This track is followed by "Living in Yesterday's Tomorrow," which follows a rock pattern that's powered by driving electric guitar and keyboard fills. It's more than a few six-packs away from country music.
"Rollin'" is another old timey track, which hops along to a parlor piano part. It's a song about enjoying life one day at a time, with a good attitude. Although "You Don't Love Me, Like I Love You" is built upon a rocking vibe, Forte's voice nevertheless leaves it sounding slightly country. It's closer to country-rock, than anything especially progressive.
The project closes with three body of water related songs, "Picnic on the River Kind of Days," "When the River Swallows Me" and "Cross the Mississippi." "Picnic on the River Kind of Days" has a Dylan and the Band-meets-a honky tonk kind of feel. It, too, has a rolling piano part. "When the River Swallows Me" features a downer lyric, akin to something Leonard Cohen or Morrissey might write. On it, Forte sings of watching his town turn to dust. He vocalizes over a quiet, moody music bed. "Cross the Mississippi" closes the album with an electric guitar rocker. It features a passionate lead vocal, backing female vocals and a cool bass line that sounds inspired by the Rolling Stones' "Jumping Jack Flash."
They say you can take the boy out of the country, but you can't take the country out of the boy. This saying holds true for Randy Forte. There's a whole lot of down home influences running through Chas Randall. That's not a bad thing because Forte sounds comfortable sharing these sounds. He's not trying to be something he isn't. By just being himself, he's created a sincere musical statement.
https://www.facebook.com/randyfortemusic/
-Dan MacIntosh