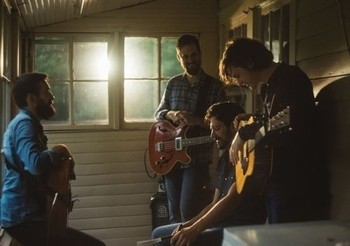 Today, the Nashville-based rock band The Prescriptions share the title track from their forthcoming debut album Hollywood Gold which is set for a winter release.
While The Prescriptions may come by their Southern style of narrative songwriting honestly, they refuse to rest on the laurels of their musical heritage. Songs like "Hollywood Gold" reflect the band's deep appreciation for their musical heroes while also showcasing the commitment and drive towards something new. The Prescriptions channel a broad range of influences, from the aching, unaffected honesty of '70s folk titans like Neil Young, to the guitar-driven melodies of The Strokes' early recordings and the experimental energy of Wilco. Stirring up a buzz among the Nashville community, the band has been thrilled to be able to open for Devon Gilfillian, Los Colognes, Tristan and Gold Connections from Virginia.
They will be celebrating the single release of "Hollywood Gold" at Nashville's The 5 Spot this Saturday August 11th, as well as opening for Norwegian Grammy award-winning folk group Darling West through the southeast this September.
Photo credit: Tim Duggan/Five Folds Creative