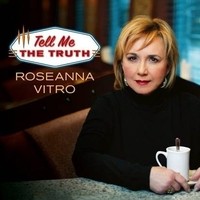 Roseanna Vitro's "Tell Me The Truth" delves into an urbane, lush jazz arrangement. Vocals have a thoughtful quality, polished to absolute perfection. Lyrics go for a unique kind of poetry, one that reflects upon the contemporary moment. Politics, the current mood, all of these filters into the carefully selected narrative. Over the course of the song the piece builds up in a way that feels so fantastic, vibrant and fresh. Horns, the nimble drums, and the piano merge to become a singular unified voice. Riffs, rhythms, these all possess a certain lightness on their feet.
Stately horns and piano introduce the piece. By the time Roseanna Vitro's vocals come into the mix it settles into a gracious groove. Quite meditative the whole of the piece works wonders in creating something that feels so alive. When the song comes into bloom the way it comes together adds to the all-encompassing spirit. Every single moment feels carefully considered while displaying a unique passion. Horns have a fire to them while they move along at a fantastic pace. Lyricism further accentuates the growing disparity between the rich and the poor. Delving even further into these overarching themes the way the song shows exactly how awful of a society, how two-faced it can be, the song speaks truth to power in the best, most pointed way possible.
With "Tell Me The Truth" Roseanna Vitro explores the zeitgeist and does so with the greatest of style.
About: Jon Hendricks, the Godfather of Vocal Jazz, wrote "Tell Me the Truth" during America's struggle with racial division, Vietnam and Watergate. Yet his message couldn't be more timely today. Grammy-nominated artist Roseanna Vitro reimagines "Tell Me the Truth" as an antidote to fake news, racial divides, attacking the free press and the divide-and-conquer politics of our age. "We The People" demand the truth. We are in a sobering time in our country. Freedom of speech is our constitutional right and knowing the truth is on the hearts and minds of all Americans.