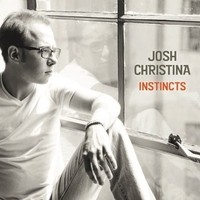 This one I was particularly happy to review and hear because finally we have a young artist who is embracing the classic, Rockabilly sound and breathing new life into the music! With bland and broken records dominating the major airwaves Today, Josh Christina and his lively tune, "Friend Zone", is a HUGE breath of fresh air. This recent single is off of Christina's new album titled 'Instincts' and has already created quite the BUZZ in my eardrums!
With a strong belief in Family, Faith, Country and work ethic, all of these fine attributes come pouring out of Josh Christina with a super, positive vibe in place. "Friend Zone" does have a friendly tone as the overall effect is welcoming and draws the listener in immediately. Elements of country, rock and blues are heard loud and clear on the new single as Christina puts his own, original spin on Rockabilly while still staying true to its roots. The end result is refreshing to say the least where Josh is digging deep to grow Sun Records-like recordings and planting his own seeds and nutrients into the mix. The magic/greatness created at Sun Records studio by Sam Phillips with the likes of: Elvis, Jerry Lee Lewis, Carl Perkins, Johnny Cash and Roy Orbison will never be duplicated. Sun Records is considered "the birthplace of rock 'n' roll" but it's important to note that the music legends listed above also helped pave the way for Rockabilly and are true pioneers and visionaries in this area of music. But, at least Josh Christina hasn't forgot about this timeless sound as he kicks the dust off and invites everyone to enjoy Rockabilly once again. It's a fun-filled, "Friend Zone" from beginning to end where Josh plays & sings with such conviction. He is lightin' up the keys in fiery fashion where I can't help but think of Jerry Lee Lewis and his wild style of playing. This is one jam session I wish I was part of because the ferocious energy is off the charts and the rhythm is tenacious. The catchy beat is infectious and will make the listener want to get up and "Bust A Move" (Young MC) on "Friend Zone".
This young artist from Baltimore is one to keep an eye on because Josh Christina has great taste in music and is anything BUT generic. In a digital world that's full of plastic, it's a nice change of pace to come across a musician that breaks the mold and goes outside the box. Chuck Berry proclaimed that one should "Hail! Hail! Rock 'n' Roll" and Elvis Presley said "That's All Right, Mama" leaving Josh Christina to carry the torch and light the way toward GOOD music again. I say Long live Rockabilly as "Friend Zone" is a fan-favorite and instant classic in my book!
http://www.joshchristinamusic.com/
By Jimmy Rae (jrae2@att.net)