Since its invention in summer 2015, Apple Music has gone from strength to strength, and now has more paid subscribers in the US than Spotify. What has Apple Music got that the far-longer-established Spotify hasn't? Will Spotify ever regain its title? Or could Apple Music continue its success and become the global monopoly of streaming?
Though only recently established, Apple Music has continually presented Spotify with fierce competition. Before Apple's streaming service, Spotify was relatively untouched, the biggest streaming service by a long way. But, of course, Apple Music had the extremely loyal company fan base at its disposal. It has skyrocketed in popularity, with the Apple marketing team undoubtedly hoping it becomes the most popular streaming service globally.
Spotify was new and shiny back when it was introduced, an innovative brand within the music industry. Since the arrival of this competition, Spotify has been challenged to invent new edges to hold onto its subscribers, particularly its paid ones.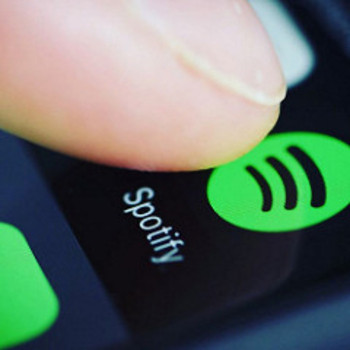 "#spotify" (CC BY-ND 2.0) by internetsense
A 'freemium' business model allows Spotify to have many users on its free service, which enables anyone to access music, with restrictions and ads.
Spotify free gives you the basic functionality, especially with desktop. Yet the restrictions are felt especially on the app. You can make playlists, save your favourite music, but you cannot choose to play a song, only shuffle. Often when you shuffle your own playlist, Spotify free won't only play the songs in that playlist; they'll add in a load of random 'suggested' tracks, too, not to mention the ads every the songs and a limitation of five skips an hour.
Spotify free on the desktop, however, is essentially the same as the premium service, with a few ads here and there. Though restricted, these options from Spotify limit its success in reeling in the paid consumers. They often need to find unique ways of proving to the free users that a premium subscription is worth switching to, and do so with many offers and deals.
Apple Music, on the other hand, is a completely paid service. It is locked off to streamers unless a price is paid, with no free functionality. Its popularity may be due to the popularity of the iPhone (the major phone brand). With every iPhone, the music app comes pre-installed and combines your paid iTunes music with Apple's, giving users an easily accessible music streaming service where they don't have to download a new app. many consumers therefore blindly begin to use apple music because of ease, and the way it neatly fits in with their Apple aesthetic.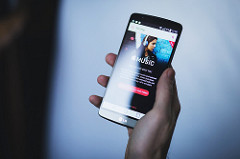 "Apple Music" (Public Domain) by freestocks.org
A full list of pros and cons here describes that the two services have the exact same pricing, yet the one with the upper hand in terms of cost is Spotify, for one specific reason.
Spotify offers welcome bonuses to attract users, offering discounted or free trial periods to introduce them to the service and let them experience it, without them signing up to an expensive contract while feeling ill-informed.
This business tactic is used by many companies both operating on a subscription basis and not, such as Pure Gym, a UK-wide gym brand, and Oddschecker, a site which offers customers bingo bonuses.
"We're always offering trials or deals where you can get Spotify Premium for a fraction of the regular price, or even free, for a specified time"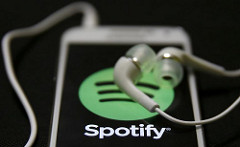 "spotify musique mp3" (CC BY 2.0) by downloadsource.fr
Frequently, Spotify have offered 3 months for 99p or similar deals which offer consumers a trial period. According to statistics, '74% of trial Premium subscribers continue with a paid Premium subscription when a trial ends'.
However, the same study revealed that '37 percent of Spotify users simply rely on the ad-supported tier of the service'.
Something needs to change if Spotify want more paid subscribers. Potentially further ads or restrictions on the free tier, or special trials and offers.
PureGym offer bonuses, including pay-in-full offers for gym memberships that make it cheaper than monthly payments. However, the more official term for this style Spotify choose, offering trials to consumers, is a 'welcome bonus', inviting customers in for better than their competitors can offer, while also trying out the service with far less financial risk involved.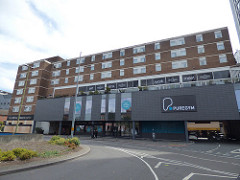 "Royal Angus Hotel and Pure Gym – St Chad" (CC BY-SA 2.0) by ell brown
The bingo bonuses on Oddschecker are 'welcome bonuses' because you can play with more money than you deposit, for example spending £10 and playing with £60 at Coral.
Where Spotify offers free for a short period then money off, bingo bonuses offer you double, triple, or far more money for what you're actually putting in. With both welcome bonuses you get more for your money – for the customer, it's a win-win.
In terms of offering the best price, these deals mean Spotify is keeping customers' attention. But, it's a tough market to crack, and deals may only get the brand so far when a strong Apple brand is their now global competition.
Other popular streaming services include Soundcloud, Tidal, Bandcamp and Deezer. Amazon and Google also offer their own music streaming platforms. However, in an environment so heavily dominated by Spotify and Apple Music, it has been a challenge for these competitors to prove their worth on the global stage.
Batanga Radio was a streaming service with a niche for US Hispanic and Latin American markets, but it failed and has been discontinued. We've all heard the story of Tidal, the streaming service set up by Kanye West out of frustration at low pay for artists on other services. It is also unique because it offers a HiFi subscription option, delivering an "uncompressible sound file, which means that you can hear every instrument and every note – as the artist intended". Tidal also offers a 30-day free trial, before users go onto a standard or family plan, the same that both Spotify and Apple Music offer.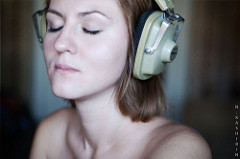 "Headphones" (CC BY 2.0) by Kashirin Nickolai
It is tricky to predict the future success of Spotify when comparing it to Apple Music. Apple is a phenomenally large company with one of the most loyal customer bases, which is likely one of the main reasons behind Apple Music's success and why it now has more paid subscribers in the US. However, if the issue of 'overtaking' is concerned with the paid subs, then Spotify is falling at the first hurdle. Through offering such a thorough free service, especially on desktop where the customer experience is largely the same, Spotify will likely lose out on the global stage to its USA successor, as Apple Music exploits its exclusive and illusive trope where the grass appears greener on the other side.