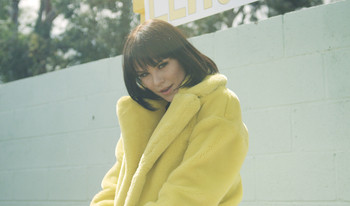 Today, UPSAHL, the Indie Pop sensation reveals the official music video for latest single, "Rough."
Co-written and produced by both Tim Pagnotta (Saint Motel, Robert DeLong, St. Lucia) and Brian Phillips, "Rough" showcases UPSAHL's stunning vocals and is a delightfully catchy three-minute nod to female badassery. The accompanying video was conceptualized, directed and helped edited by UPSAHL.
"Life is never that rough if you're able to breathe and laugh and be with the person you love," proclaims UPSAHL.
In regards to the video, UPSAHL says, "I wanted the color scheme to embody the bright, cheeky, playful vibe that the song has. To me, that color was yellow. After considering everyday things that are yellow, lemons came to mind, and it was like a lightbulb went off in my head. I wanted the video to be based around me rolling a lemonade stand around town, trying to sell lemonade, yellow cupcakes, and even vinyl records. If you look closely in the video, there is a sign that says 'All Proceeds Go To Someone In Need.' Basically, that person in need was the boyfriend/friend/romantic partner that wasn't appreciative enough. The whole video is a friendly reminder to someone in your life, romantically or not, who just doesn't appreciate how lucky they are to have you around. In today's political climate, it's very easy for women to feel like their self worth is lower than it should be, based on the way that they are treated. This song and video takes that idea and flips it, telling someone to stop complaining and realize that 'your life can't suck that bad cause babe, you're rolling with me.' I feel like I took the motto, 'when life gives you lemons, make lemonade,' and twisted it into, 'when people don't realize how lucky they are to have someone like you in their life, make a fun music video about it.'"