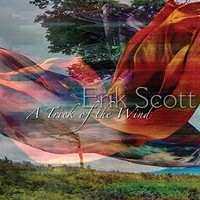 A soothing wash of sound defines Erik Scott's lovely ambient bliss of "A Trick of the Wind". Done with such deft skill, Erik Scott effortlessly brings together the worlds of classical, rock, jazz, all within a droning ambience. By opting for such a style, the pieces truly seem to exist in a gorgeous haze. Things are allowed to sprawl out seemingly into the infinite featuring little flourishes that float about in a comforting way. Hard to precisely pin down, Erik Scott uses a dream world logic to tie everything together in a most perfect way.
Setting the tone for the album the mystical "Wings" introduces everything. Wordless choirs mingle with lush sweeping soundscapes. On "The Wind Sings a Strange Song" the track delves into a hypnotic trance going further and further down the rabbit hole. A noir jazz-like quality emerges on the powerful "Ghosts of Storyville". Easily the highlight of the album and indeed its hearts pours through the potent title track "A Trick of the Wind". Going for something a little poppy "A Wing and a Prayer" has a great amount of compassion behind it. Rhythms have a loose quality on the western inflected slide guitar of "The Invisible Wand". Little bit of playfulness resides within "A Child Remains", helping to bring the album to an absolute sunny, optimistic close.
Erik Scott's "A Trick of the Wind" goes for a surrealist, gorgeous take one whose gentle melodies and rhythms work wonders.
By BeachSloth