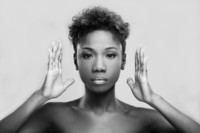 In her latest single "Hey Yo," Ghana-based pop singer Yaa Yaa blends relevant, socially conscious lyrics with a swinging, rhythmic beat to make one of the most stunning, genre-bending tracks I've had the opportunity to write about in 2018. While a lot of singer/songwriters are content to recycle the same themes and textures that their contemporaries are finding some success producing, Yaa Yaa defiantly carves her own imprint into the international pop music lexicon with style and class unparalleled in her generation.Ashanti Vibes, her breakout full-length album, has been met with almost universal praise and acclaim from critics and audiences alike, and while I loved all of the content I listened to on Ashanti Vibes, something about this single stuck out to me as deeply significant, not only for Yaa Yaa as a songwriter and performer, but for the international music scene that she is impacting with such grandeur at the moment.
https://www.facebook.com/YaaYaaOfficial/
"Hey Yo" starts off as a simple enough song, driven but an affectionately delicate guitar beat that slowly unfolds into a much more epic, almost symphonic composition encompassing influences from hip-hop, R&B, folk and eclectic pop. Independent artists across the globe strive to relate to their listeners through a channel other than just contextual imagery, but for Yaa Yaa, she makes the process of connecting to her audience effortless, laying down harmony upon harmony in one of the most intimately produced songs of the summer. Her emotion isn't understated, but her delivery isn't overwhelming or difficult to digest. If anything I would say that a lot of her contemporaries could learn a lot from studying her approach to the recording process, which is clearly not rooted in researching marketing data or analyzing trends, but instead just embracing the music and whatever direction it might take her.
The most dynamic quality in a performer like Yaa Yaa isn't necessarily her brilliant prose or even her incredible knack for harnessing melodies in its most raw and authentic form. For me personally, it's her sensitive demeanor; the almost gliding way that she melds her aesthetic into such earnestly structured material isn't something that I've witnessed in another artist in my recent memory. Music has this power to connect all of us in so many ways, but its music like this that does more than just spellbind us in a danceable groove. It speaks to our very souls and transports us to an almost divine place, a place where nothing but the core of our beings exists and harmony isn't as breakable by words and actions as it is in this world. In that sense, Yaa Yaa isn't just making infectiously groovy pop music. She's setting a new standard for musicians and artists of all mediums as we jettison forward into the future of the collective culture we share as a planet. If "Hey Yo" is merely a peek into what this talented young woman is capable of as a rookie, I can only imagine what kind of output we can expect from her in the years to come.
Rick Bruton