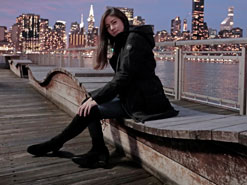 With enormous talent belying her years, Navakaine is our new infatuation- metaphorically and physically. Referencing the addictive and numbing substance, this eighteen-year-old tries to navigate through life as the pain of growing up possesses her to act out of character. Navakaine explodes onto the scene with her unique perspective as she faces her biggest fear which is highlighted by her stage presence and lyrical content. She has defined her creative expressions as, "spilled my thoughts and put them in the light, so now you can finally listen to me." In "Skyliner", she dives into the hardest self-awakening of her life as she takes her infatuation for New York City to not only find her true self, but also to avoid getting lost in the big city. She is a mystery for even herself as the skyscrapers guide her to reach higher within herself.
https://www.facebook.com/Navakaine/
Navakaine has had a long journey in only eighteen years. She grew up in Indonesia and moved to Seattle in 2016 to begin her music career. After only a few years she made the big move to New York City and encompassed the empire state of mind. She dreams big and her subconscious belief within herself is starting to shine brightly with her debut single "Skyliner." She takes influence from Lady Gaga, Lana Del Rey, Lorde, and The Weeknd, crafting a signature sound that blends indie and pop flawlessly. Pushing her first strong impression onto the only city that can handle her, she plans on releasing her debut album After Summer sometime next year. The album acts as a storybook and testament to her life as she comes to terms with adulthood smacking her right in the face.
The "Skyliner" music video is a fantastic taste of the creative and vengeful art she paints with a steady brush. The video opens up with Navakaine being pictured in a car crash with her lost love. Unaware of who caused the crash, one can infer that it was a mutual devastation. As flames and bridges are burned, we watch the evolution of Navakaine as she experiences peace in her solitude within a situation that was coated with pretty lies. The video closes as she looks out into the city, knowing that her life has a much bigger meaning than her present trials and tribulations clouding her view.