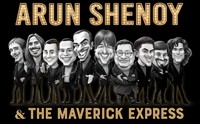 Arun Shenoy & The Maverick Express go for an intimate approach with the tender "The Unplugged Songwriter Sessions". Keeping things to the absolute essentials, the whole collection shines with an uncanny sense of life. Lyrically masterful, the whole of the collection explores the innermost desires that help to weave whole lives teller. The collection proves Arun Shenoy to be a deft storyteller, incorporating a great amount of detail into the singular whole. By far the true heart and soul of the collection comes from Arun Shenoy's emotive vocals that nicely tie everything together. Stylistically the group goes for a soothing chamber pop approach, with classical, jazz, and worldly influences woven into a colorful tapestry of sound.
Audio: https://arunshenoy.com/unplugged/
Nicely opening the collection "The Perfect Mistake" has an understated elegance to it. Everything swirls into a majestic universe, allowing for a bit of playfulness to enter into the fray. Quite reassuring with its gentle spirit "Beauty in Blue" teems with a sense of life, for the whole of the work has an autumnal quality to it. Melodies linger in the mind from this piece, from the expressive flute to the gracious piano that anchors it all. Great hope pours from "Learning to Fly (The Singapore Tribute)". Perfectly summarizing all that came before it is the spirited "The Purple Phoenix Tour (The Murex Tribute)".
With "The Unplugged Songwriter Sessions" Arun Shenoy & The Maverick Express paint a portrait of the artist with such incredible honesty.
Site – https://arunshenoy.com/
By BeachSloth