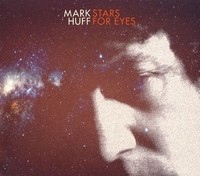 Mark Huff goes for a raw, rustic slice of Americana with the riotous rock n' roll of "Stars For Eyes". Done with the utmost of care, Mark ensures that the arrangements virtually burst at the seams with countless flourishes added for additional emphasis. By choosing such a style the whole of the album rushes forward in a big, brilliant blur of color. His voice has a serene, reassuring quality to it. Stylistically, Mark incorporates quite a bit into these compositions ranging from little bits of electronica to country to hints of dream pop for good measure.
A true blast opens the album up with the intensity of "Prison Door". One of the highlights of the album comes early with the title track "Stars For Eyes" where Mark goes for a hypnotic spirit to the whole of the work. Slide guitar works wonders on the soulful "Carolina Blue" where Mark sings straight from the heart. Great grooves work wonders on the ever-increasing scope of "God In Geography". Rollicking with its swinging approach is the infinitely playful "Nightingale". The sprawling ambitious of "Heart Beating Without You" goes for a soaring, surreal tact. Western twang adds to the potency of the heat-soaked splendor of "Burning Letters". Representative of a grand journey is the exploratory "Albatross". Neatly bringing the whole of the album to a stylish conclusion is the closing "Almost Like The Blues".
"Stars For Eyes" shows off the uncanny storytelling abilities of Mark Huff as he explores the small moments, the relationships and the triumphs that make up a life.
By BeachSloth