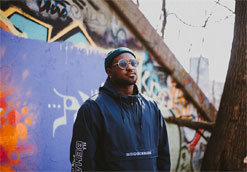 Jared Price – known to most as JPRiZM – is an artist that refuses to stay in the box. Creatively, musically, and visually rebelling against conventional societal and creative norms with his melodic storytelling abilities. Based in Boston, JPRiZM has serious talent and discography to back up his well-earned notoriety. It's hard to classify his style in one genre as he blends hip-hop, EDM, and pop (he cites Pharrell, MF Doom, J DIlla, Flying Lotus, early Kanye West, and Daft Punk, as influences) to allow us into his enigmatic but expressive mind. His 2014 debut album Mindwalker was followed with the Waves EP in 2017 and PRiZM WORLD aka EXPERiMENTS in 2018, which established his presence in electronic music; as well as several singles and collaborations, including the Jennie.O R&B track "Heroin (My Love)" in 2017. JPRiZM also remains very active with his remixes and rarities including "Hung Up" with Luhx. and "Feenin'" with Amanda Holley. JPRiZM also produced "Heart of a Woman" (with lyrics by Joelle James, writer of Ella Mae's "Boo'ed Up"), the end-credit song for the spring 2018 Lionsgate film Traffik.
JPRiZM shares that his brand new video for "Rise", like a prism, "is a reflective rhythmic novella, meant to be experienced and not explained."
"We all owe it to this Realm to share our perception of things with each other. That is how we grow. That is how we transcend. That is art.", he offers, and continues that, "What most people don't know about me is that my music career all stems from writing. From an early age, writing stories and rhyming was something that I loved to do. I love it, it is something that I am passionate about and I feel like I owe to the universe to put out art when I'm inspired by experiences in this plane of existence. Sometimes I feel like telling stories through beats, sometimes I feel like writing, singing and rapping. That is what being JPRiZM is all about. It's all a part of the journey and accepting the call when the universe needs me to channel a message." "Rise" was performed, produced, and written by JPRIZM and animated by Anthony Morris Jr.