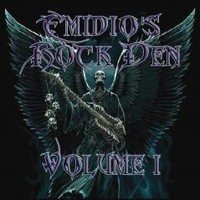 Angeles starts things off with the powerful rush of "Not Here To Play". Done expertly they are propelled forward by an unstoppable rhythm section. The guitars scream up into the sky with a feral spirit.
Going for a 70s hard rock style is Cathedral Reign's classic approach of "Gentlemens Choice". With a significant sense of swagger the song has a physicality to it. Multiple layers of sound interact creating a kaleidoscopic fervor.
The take no prisoners approach works wonders for Abandoned Souls' "Best of Me". Chugging rhythms reign supreme full of great dollops of distortion. Vocals go for something unhinged as they rise above the din.
Driving rhythms run through the aptly named "Out on the Highway" by Keith Hill Project. Everything goes for an unhinged sort of presence, one that allows nothing to be held back. Guitar solos have a tremendous intensity with some truly fantastic shredding.
Cinematic in scope, Alyeus sprawls out in the seemingly infinite with "Archetype". The song has a stately, commanding presence to it while it grows in scope. Quite sweeping the piece stuns.
Sister Salvation goes for a raw, gritty, soulful sound with "REWIND". Nostalgia permeates the entirety of the piece. A great attention to detail allows the song to have a bluesy atmosphere, while a pining quality emerges as things unfurl with such grace.
Rather subtle, 13 High employs a little bit of psychedelic rock with the western twang of "Social Butterfly". Never rushing things, the piece has a contemplative aura to it. Vocals swim through the virtual walls of sound.
Hard rock and grunge merge together on the mysterious take of One Supernova's "My Head". Impossible to fully expect, One Supernova balances near-silence and blasts of blaring guitars with such grace. The cyclical nature of the work lends it an eerie quality.
Galloping rhythms introduce Lunacy's potent "The Watcher". Extreme energy flows through the whole of the work, allowing everything to be crushed in its path. By going for this tact, the song radiates a sense of urgency.
With a truly great narrative, Charles Brown lets "Ride or Die" serve its name great justice. The pulverizing unwavering riffs ring through with such a clear-eyed intensity. Percussion anchored the stupefying guitar work whose approach shows off some serious chops.
The Corridors roll through with the infinitely catchy "Chain Reaction". Electro impulses help to frame the piece. A hybrid tact results in a highly colorful, emotionally resonant body of work.
Industrial and incredibly bleak, Revenant Dead burns it all down with the darkened beauty of "First To The Last Stand". Heavy to its very core the song has an expression, fiery passion to it. Multifaceted to the extreme the song contorts itself in a wide variety of ways.
On "Tonight's The Night" Bob Birthisel goes for a classic rock groove. Done to perfection, their chops lend the song a great satisfying warmth. Their vocals have a honeyed presence to them helping to tie everything together in a most gorgeous fashion.
Knotty guitar lines intermingle on the Justin Mark Briggs' playful "Drinking From The Silver Cup". A looseness gives the piece a unique quality, one that recalls hard rock's true heyday of the 70s and 80s. Such an incredible attention to detail means every flourish, every guitar solo becomes amplified in full.
Dark Avenue closes the collection off with the colossal riffing of "(Don't) Hold On". While the percussion swings through the guitar have a physicality to them. Everything comes in and out of focus in a way that feels truly entrancing.
Site – https://bongoboyrecords.com/emidiosrockdenvol1/
By BeachSloth