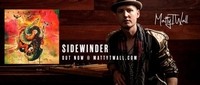 Matty T's "Sidewinder" deftly brings together blues, soul, and southern rock into a celebratory whole. Incredible guitar riffs emerge on every single track for the whole of the album works together as a singular, unified vision. Lyricism has a great variety, for Matty T incorporates a certain kind of poetry into it from stories of a life lived to the fullest to pleas for unity. Instrumentally rich Matty T allows so much into his all-consuming compositions for they simply burst at the seams with such energy.
The scene is set with the unhinged instrumental "Slideride" where Matty T lets the guitar sing. Organs positively glisten on the glowing title track "Sidewinner". "Something Beautiful" goes for a laid-back, tender take on his style, as the loveliness of the track feels undeniable. Sprawling and ambitious "Change Is Gonna Come" tries for a gentleness, a desire for people to come together. By far the highlight of the album a togetherness defines "Change Is Gonna Come". A classic rock style enters the fray with the raw grit of "Shake It" whose sweaty energy feels infectious. With an airy summery spirit "Ain't That The Truth" goes for something that feels so soothing. Rambunctious to its very core the horns of "Walk Out The Door" add to its palpable swagger and defiance. Ending things on a highly thoughtful note "Mississippi Kkkrossroads" goes for a stark realism.
"Sidewinder" shows off the undeniable chops of Matty T in creating rock that truly rocks.
By Beach Sloth