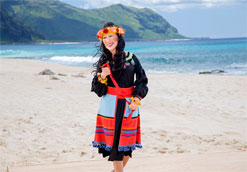 Wai Lana is a playful, carefree spirit adorned with a flower crown. In addition to being a talented singer and songwriter, she is also an international yoga teacher who enthusiastically shares the message that, "yoga offers much more than just exercise." Her deep commitment to authentic yoga values infuses her lyrics, creating a universally appealing shared experience for the listener. Sung with the brightest of smiles, her songs glow with a rare warmth and beauty.
Wai Lana is not your typical artist. For over forty years she has worked to introduce people to the benefits and practices of meditation through yoga. She has a TV series that she co-directs and hosts entitled Wai Lana Yoga. Having aired nationwide for over eighteen years, it is the longest running fitness series in public television history, making Wai Lana one of the most recognized yoga teachers in the world today—talk about influence! She's currently filming a new series called Wai Lana Insights, which includes 3 to 6-minute clips covering topics such as healthy lifestyle, relaxation, and higher thinking through yoga wisdom. Inspired by decades of personal practice and study, Wai Lana Insights reveals the heart of the yoga lifestyle, making timeless, practical wisdom accessible to everyone. As a mother of three and grandmother of six, she has certainly demonstrated a great moral code to guide her family, and hopefully, the impact of her humility and perseverance will be passed down for many generations.
Over the course of her music career, Wai Lana has released many projects, starting with Yoga Sound in 1998. Her new song, "Colors", produced in honor of the 4th annual International Day of Yoga, is part of a new album she is working on called Beyond Time and Space.