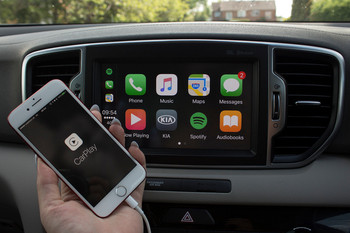 For a music lover, a car can be one of the best places to listen to music. With today's constantly evolving technology, there are always new and exciting things happening to improve the listening experience. Many of those new technologies are just flashes in the pan, obsolete almost as soon as they're purchased. Here are a few technologies that are new, or older but still relevant. Also, remember what you learned from your online Driver's Ed California course: hands-free is key!
The Auxiliary Port
The auxiliary cord is universally acknowledged as one of the best things to ever happen to music technology. On older cars, the best way to play music from an iPod would be an auxiliary cord attached to a cassette that was then plugged into the tape deck. Each of those contraptions cost about $20 and broke frequently. Eventually, however, cars started to include auxiliary ports in their standard features. This may not be the newest feature, but it is tried and true. People can plug in their phones or iPods and have a much wider variety of music without carrying around all their CDs. Think about this luxury when deciding if buying a new car is better than used.
Bluetooth Connectivity
There has been a movement over the past few years to remove the wires from our lives. Bluetooth technology has been instrumental in making this happen. Originally it was only used for people to talk on their phones while driving. Then, they could either use wireless headsets or the new Bluetooth technology in the car. Now, the Bluetooth's capability has been expanded. It can now play the sound from almost any app throughout the car.
Spotify
Speaking of those apps, Spotify is the latest and possibly most popular in a long line of music streaming apps. The free version of Spotify allows users to select a musician. From there, the app will generate a playlist made up of that musician and similar artists. That's only one search method. The app will also allow free users to select an album. The album will play, but not straight through. For that privilege, users must have a subscription. A subscription is the only way to go straight to a specific song or listen to an album straight through with the songs in the right order. A subscription to Spotify Premium also eliminates the few commercials that come with a free account. With Bluetooth installed in the car, Spotify has become an essential app for every fan of listening to music on the go.
Android Auto and Apple CarPlay
This most recent technology is only featured in the very newest cars, and even then, it's only for certain makes and models. However, for music fans lucky enough to have very new cars and, of course, smartphones, a new option is available on the market. Car companies seem to have finally stopped trying to perfect their own "infotainment" systems and opened to the idea of letting the leading tech companies, like Apple and Android, do the work for them. In these vehicles, the owners can plug in their phones (which also serves to charge them) and access various features of the phones through the screen in their dashboard. This allows drivers to access their calls hands-free, with voice commands or sometimes through controls in the steering wheel. Texts can be read aloud by the system. Of course, this also means music can be played, either from the music stored on the phone or, of course, Spotify. Hopefully this technology sticks around long enough for everyone to be able to afford it.