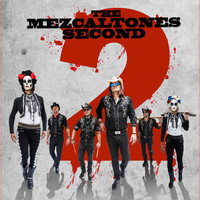 As a band, The Mezcaltones are like a cinematic period piece. Although they're originally from Sydney, Australia, their hearts are many times way back in the old west. This 8-song collection opens with an instrumental medley, "For a Few Dollars More/Good the Bad and the Ugly (The Spaghetti Medley," which is a tribute to Ennio Morricone's memorable music.
This opener is masculine to the extreme. It creates visuals of a stubbled Clint Eastwood arriving in town with guns loaded for a fight. However, this six-piece is a mixed gender band also featuring two women. Band members go by appropriate pseudonyms. So, one gal is named Mimi, described in the group's bio as a "spicy seductress who shakes it like a rattle snake." The other she-rocker is Neralita, the queen of southern rhythm strummin'. The lineup is rounded out by Don Juan, Don Too, El Shango and Lucre.
From the sound of "I Know My Rider," one also gets the impression these musicians love music of the Sixties. It's driven by a Byrds-y guitar jangle and tambourine-d rhythm part. It's psychedelic in a spacey way, and not harsh like garage rock. "Humble Pie" reveals a love for twangy, surf-y country grooves. Its lyric speaks – as the title suggests – to humility. This song's lyrics betrays the artifice in the band's image a bit; the group comes off surprisingly sincere in this song.
The group puts their females voices to best use on "Short Change Hero," which switches back and forth between a male and a female lead vocal. The song rolls to a midtempo groove, and – picking up on the theme set with "For a Few Dollars More/Good the Bad and the Ugly" – reads like a theme song from a movie. It's moody and describes the displacement of heroism.
The project's most upbeat song is "Na Na Na," which darts to a fast, driving rhythm. Don Juan sings the verses, while Mimi and Neralita come in with snotty vocals on the choruses. It's the kind of song that would have fit nicely into an old TV rock & roll show, where bands would often be flanked by go-go dancers.
The Mezcaltones may be a throwback band, but they're also a throwback of the best sort. They don't ever try to overthink what they do too much. They're not out to invent anything new and create sounds nobody's ever heard before. Rather, they know exactly what they like and do a wonderful job of recreating a memorable musical era.
Some may hear this music and immediately think of Quentin Tarantino films. These would be the younger folk not quite old enough to recognize Tarantino's influences. But whether it's first hand or second-hand recognition, the musical pleasures created are exactly the same. It goes to show just how timeless some cinematic/musical eras truly are. It also reveals how much of our contemporary music is shallow. Artists wouldn't reach back as far as The Mezcaltones have if they weren't at least a little bored with contemporary movies and music. If you're also growing tired of modern culture, The Mezcaltones' walk down memory lane may just be a trip worth the taking.
-Dan MacIntosh