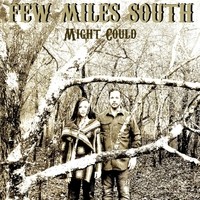 Right away when I Hit Play on this new EP, I was thinking to myself that Few Miles South is bringing back that classic, country sound and honky-tonk atmosphere and way of life.  What a refreshing taste going away from the constant Pop County realm that is heavily saturating Today's country music market.  This is a debut release from Few Miles South but you wouldn't know it from listening because the band sounds like a well-seasoned production that's been churning out Hits/singles for years!  'Might Could' is a major testament to FMS and their abilities as artists/musicians to put together recordings that are so polished and perfectly executed.
Few Miles South is comprised of two core members, Blake English & Tori Lund, with plenty of talented accompaniment on the five songs.   On the opening number and title track, "Might Could", one will hear pure country roots and just an overall good-times vibe.  Tori's vocals really pop out to go along with a beat and rhythm that shakes, rattles and rolls.  Tori convincingly expresses that "This ain't my first rodeo" on "Might Could" and I will not argue with that one bit!  Track 2, "Jojo", cruises along where the pleasant sound is hitting your face like a cool breeze.  Next up, the listener will land on "Walking To The Moon" where Tori Lund's inviting voice draws you in to go along with a relaxing melody.  Track 4, "On Down The Road", travels at a swift pace where FMS is bringin' it on home.  I recently watched the movie "Urban Cowboy" again and thought this style of song would have been a perfect addition to the rowdy, Honky-Tonk scene.  Maybe if there's a sequel, Few Miles South can grab the mechanical bull by the horns and march "On Down The Road" with authority.  The EP ends on a high note with "What's Yours Is Mine" where harmonious vocalizations are hitting me from all directions as FMS delivers a powerful performance.
With Tori's commanding tone & presence as a singer and Blake's fiery & steady guitar playing, Few Miles South is no joke and distinct precision at its finest.  It's worth noting that Blake English and Tori Lund wrote, produced and recorded the entire EP together showcasing their full potential and capabilities as musical engineers.  If you're ready to saddle up and enjoy the Golden Age of Country again, then grab the reins and ride along with Few Miles South and their trusty EP sidekick 'Might Could'.  And who knows, maybe Blake and Tori Could even head a Few Miles South, find Bud & Sissy and play at the memorable Gilley's in Texas paying homage to and playing into the theme of "Urban Cowboy". That just Might be an idea, a barn burner and one hell of a time; YEE-HAW!
By Jimmy Rae (jrae2@att.net)