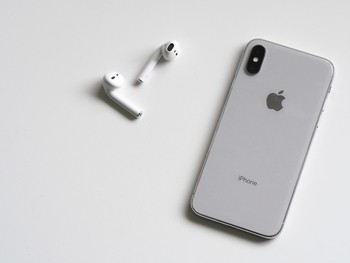 Apple is getting ready to pump up the volume on its strategy for audio devices with high-end AirPods and over-ear headphones delivering studio-quality sounds for 2019.
Bloomberg Reports by Unidentified Sources
The Cupertino, a company based in California, is at work on new AirPods which will feature both noise-cancellation and water resistance, according to Bloomberg. Their sources were apparently not authorised to make any kind of public announcement regarding this.
Apple is trying to enlarge the range that AirPods can work within away from your iPad or iPhone, according to one of these sources. You won't be able to swim while wearing them though. The water resistance is primarily to protect against perspiration and rain.
A Segmented Product Line
In the same way that online betting sites allow for punters with a variety of stake preferences to be catered for, Apple looks likely to segment the product line for these AirPods like they have for the iPhones. The update earphones will probably cost more than what the current ones do, and this will be the reason for the segmentation, say the sources.
Other Additions
Apple is also working on a wireless charging case that will be compatible with the upcoming AirPower charger, and there have also been internal discussions about the addition of biometric sensors to future AirPods. These will include things like a heart-rate monitor, and will serve to expand the other hardware related to health the company already provides, like the Apple Watch.
We can look forward to the AirPods we already have being refreshed later on this year too, with a new chip being released, along with support for hands-free activation of Siri.
Over-Ear Headphones to Give Bose and Sennheiser Some Competition
Over-ear headphones are coming soon too, aimed at competing with Sennheiser and Bose's pricey models. They will make use of Apple branding, and serve as a more high-end alternative to the current Beats line. The headphones were initially slated for release at the end of 2018, but development challenges have pushed this to early next year.
Accessories Are Where the Money's At
Apple makes use of unique accessories like their AirPods to round out their software/hardware ecosystem. Accessories have become a vital source of revenue recently, helping to generate sales of more that US$12 billion in the 2017 fiscal year.
An Audio Push to Boost Apple's Earlier Success
The expected audio push is going to build on Apple's previous success in this field. iTunes and the iPod went a long way to helping revive the industry, and set a transformation underway that saw the company turn from a manufacturer of computers into the giant of the mobile device industry it is today.
Apple declared that it was one of the world's biggest shippers of audio speakers in 2012, thanks to the earbuds that arrive bundled along with its devices, and the iPhones, iPads, and Macs that are equipped with built-in speakers. Two years later the company purchased the headphone manufacturer and streaming music company Beats for US$3 billion, its largest acquisition to date.