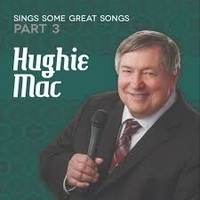 Music plays a much bigger role in our daily lives than we often acknowledge. For most of us, it's a pretty rare occasion to have a day go by where we don't have some exposure to some sort of melodic sounds synchronized together in a catchy harmony, whether it be in a commercial jingle or just listening to the radio. Music has such a crucial part in shaping our lives, acting as the soundtrack to some of our biggest, most significant moments as well as the mundane, day to day nonsense that we all deal with just getting out of bed in the morning. Here to make the days a little more exciting and the nights a little more fun is Hughie Mac, a standards singer who doesn't just channel all of the vocal legends of a half century ago, but adds his own unique spin to some of the greatest excerpts from the American songbook in his new album Hughie Mac Sings Some Great Songs Part 3. I had the opportunity to listen to Hughie's brand new record ahead of its release the summer and was quite pleased to find a whole lot of originality and authenticity woven into songs that all of us have come to love and cherish for generations.
Two of the biggest highlights from the plethora of content on Hughie Mac Sings Some Great Songs Part 3 for me personally were his poignant interpretations of "Come Dance With Me" and the stellar "Hello Mary Lou," with the latter arguably a more relaxed and plaintive version than the vintage Ricky Nelson track. Listening to this record was unsurprisingly a very nostalgic experience, but at the same time Hughie puts enough of a modern twist on each of the tracks to make them completely distinctive and matchless when placed in contrast to other recreations of these particular songs. It occurred to me, somewhere around the halfway point of this record, that maybe it's the freewheeling catharsis of swing music that America needs right now more than anything else, to get us over this hump of derision, division and dirge that has completely enveloped the larger scope of American life for the worse. This music had such a powerful effect on generations to come before us that it seem rather illogical to me that it couldn't produce the same feeling now, in a time where our mass appreciation of art has never been at a higher level of tolerance.
Ultimately, music that is timeless now will always be timeless, and it takes a special kind of artist to be able to live up to the high standard of practice that is required to do this classic music justice. Thankfully, in Hughie Mac we have a truly skilled vocalist and entertainer who isn't just up to the task but feverishly takes on the challenge head on with the ferociousness of a rookie getting his first start in the big game. I sincerely hope I have the privilege of hearing more from this fine gentleman in the near future to come.
I-TUNES: https://itunes.apple.com/us/artist/hughie-mac/1173657813
Thomas Patton, III