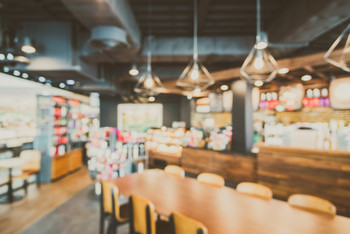 Being a successful café owner is about more than having a great brewing recipe, solid equipment and a trained staff. Sure, all of these contribute to your coffee brewing process, yet, this is merely the tip of the iceberg. What you also need is a solid business plan and a way to make all those little things work in your favor and contribute to the overall customer experience. With that in mind and without a further ado, here are six cool tips and tricks that most café owners should know about.
1.      Conserve energy
As a café, you'll have two major issues when it comes to your overhead, the supplies and the power. When it comes to the first, it's simply unacceptable to allow yourself to run out, for whatever, reason, yet, there's a way to save money on the latter without compromising the infrastructure of your business. Setting the thermostat to the optimal temperature can be quite frugal, seeing as how every single degree (cooler in summer or warmer in winter) stands to increase the power spending by as much as 10 percent. Moreover, replace all your bulbs with LED ones, which provides a better lumen-per-watt ration and, in this way, conserve energy to the best of your abilities.
2.      Avoid currency sign on the menu
One neat psychological tips you can try out is removing the currency symbol from your menu. Let's be realistic, people in the restaurant already know the currency they're supposed to pay in and leaving the symbol only attracts the attention to the price. So, in order to avoid this practice that might lose you some money, you should try to leave only a number and, place it after the name (and description) of the dish, so that people can focus on the meal and not the price. In a way, this will make them more inclined to spend more.
3.      Smarter self-promotion
Another thing you need to understand is that the phrase hard-sell doesn't have as negative connotation in the café industry as it does in most other industries. After all, it's not like you're persuading people to make a one-time buy at your place and forget about the offer made by your competitor. All you're doing is making a compelling offer that people who follow you on social media, frequent your bar or just walk past it might take you up on. Furthermore, the idea of on-spot special offer promotion might be quite effective, which could justify the need to buy glass writing boards to display in your café.
4.      Free Wi-Fi is no longer optional
In the past, having a free Wi-Fi was that one special offer you could add to the list, nowadays, providing your customers with an access to free internet connection is completely mandatory. On the other hand, it also provides you with prospects of a much greater profit. For instance, do you ever notice freelancers working from a Starbucks? Well, some people prefer to look for smaller cafes with a bit more intimate atmosphere. So, if they're about to spend hours and hours there, the bill they make is likely to match what you would have expected.
5.      Make a solid floor plan
The next thing you should do is look into ways to improve your café's design. First of all, the issue of visibility is the key, seeing as how you want to give everyone a sense of intimacy, while not restricting their view in any way. Next, you want your employees to be able to commute freely across the room, without having to move your guests or put them at an inconvenience in any way. Finally, you need an intuitive design, the one that's easy for your guests to understand and turn to their favor.
6.      Don't take your expenses for granted
At the end of the day, the simplest way to notice money-losing practices is to examine your bill every single month. Think about it, this only takes about a minute of your time, especially if you enter it all into a table (MS Excel or Google Sheets), which would allow you to compare your spending to those of previous months. If something's off, you might have the case of employee negligence, grid error, appliance malfunction or even utility company mismanagement or lack of transparency. All of these are something you can act upon.
In conclusion
Lastly, you need to understand that when running a café, you're running a business, which means that you have to spend as much time behind the calculator as you do behind the coffee maker. In other words, your ability to lower your overhead, reach out to your audience in a cost-effective manner and make the entire place work in your favor are worth more than you can possibly imagine.