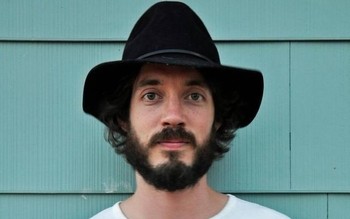 Have you had a lousy day? Ever feel like chucking it all and heading for the hills? Ben Bostick knows where you're coming from. The Californian country rocker has had a few escape fantasies of his own – visions of ditching the rat race and getting back to the land, reclaiming his primal manhood, or just partying until he drops. Yet Bostick is too smart to think there's any easy way out of the trap. He's poured all of his ambivalence, his frustration, and his wild will to get free into a delicious growler called "No Show Blues", and he's paired it with a video that reinforces all the rage, humor, and beauty of the storytelling.
"No Show Blues" is the first cut on the soon-to-be-released Hellfire, a collection of ferocious, uncompromising, brutally honest, and darkly funny outlaw country songs – songs Waylon and Willie would recognize as part of their tradition. Bostick keeps his tales concise, his rhymes tight, and his language bluntly poetic, and sings it all in the parched growl of a desperate man who has been wandering the Mojave for too long. Hellfire follows on the heels of Ben Bostick, an acclaimed debut full-length that steamed up the summer of 2017, and announced this artist as a formidable force in country rock. No Depression loved it, writing that "Bostick plays rocking country soul, raw and uncut, straight from the heart."
Bostick is a commanding presence onstage, and his live rave-ups have made him an attraction on the Southern Californian club circuit. Turns out he's just as menacing – and captivating – in front of a camera. "No Show Blues" isn't the first Ben Bostick video, but it's the one that best communicates the fury and desperation of the artist's sound. The clip finds Bostick behind the wheel of his car, in full-on crisis, streaking toward the city limits of Los Angeles. By the time he reaches San Bernardino on the freeway, he's loosened up his dress shirt and tie; once he hits the edge of the desert, he's dangerous as a snake.
Yet the key sequence – the one that tells you the most about the depth of Ben Bostick's writing, and his understanding of human nature – comes late in the clip. Born again as a badass, the singer sets up his empty beer can on a rock and proceeds to fire his gun at it. But no matter how close he gets, he can't hit the target. Trashing your old life and burning it all down? In the moment, that's awfully gratifying to do. Then the moment passes. What happens next is anybody's guess.