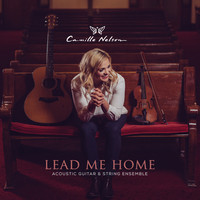 The first thing I noticed right away when listening to Camille Nelson's latest album, Lead Me Home, is just simply the sheer joy that went into each song.  This 12-track recording is an absolute labor of love for Camille and one spiritually uplifting experience.  Camille Nelson has been in the music industry for over 8 years and Lead Me Home is her second studio album released on August 18, 2017 under Stone Angel Music (https://stoneangelmusic.com/).  This CD contains an array of wonderful guest artists including: Steven Sharp Nelson of The Piano Guys, Alex Sharpe (formerly of The Celtic Woman) and Ryan Shupe of Ryan Shupe and The Rubberband among many other talented players.  The album is comprised of traditional and original hymns that are just so joyous & peaceful.  Nelson is a pristine violinist & guitarist that has a distinctly sincere purity to her sound and truly embodies this spirit on Lead Me Home.  The album offers a wide blend of elements from folk and bluegrass to classical and New Age all in the key of acoustic guitar & string ensemble.  The CD starts up with a rousing rendition of "Amazing Grace" that is simply soothing with masterful arrangements & heavenly strings.  Track three, "Nearer My God To Thee", contains country roots while song four, "Be Thou My Vision (featuring Alex Sharpe)", offers lovely vocals that come across as deeply angelic.  "Adelia" and "Be Still My Soul" hit the listener with beautiful melodies that put you at ease.  Track seven, "Israel, Israel God is Calling", is uplifting & upbeat while track eight, "Come, Come Ye Saints (featuring Steven Sharp Nelson)", really moves and has a beat that is convincingly catchy.  The title track, "Lead Me Home", is extremely genuine with such a big impact as the music truly spoke to me.  The song "Come Thou Fount (Featuring Steven Sharp Nelson)" is just an absolute delight while "Count Your Many Blessings" is an incredibly touching & heartfelt ending.  The message behind this composition is something I do every day and so was near & dear to my heart.  I'm grateful for all of my bountiful blessings and this song reminded me of that sacred fact.  And so, I thank Camille Nelson and her special guests on Lead Me Home for the glorious presence that was like blessed music to my ears.
I'm not afraid to admit that I actually shed a tear or two while listening to this album because I had a strong emotional connection to many of the songs.  The feeling is hard to describe personally, but all I can say is that Camille's music had a very strong effect on me.  I am not alone here because there is plenty of positive feedback from super-satisfied listeners giving Lead Me Home endless praise.  Here is what two fans had to say about Camille Nelson's work:
"Your music is absolutely beautiful. The comfort and peace your music brings is amazing. BRAVO !!!!! Thank you for such comforting music," Elaine Carroll.
"I am filled with contentment and peace listening to the music, reflecting on the blessings of my family," Carmel Evans Martin.
Camille herself is over the moon about the response the CD has been getting and "how it's  brought listeners peace".  She went on to say, "That was my main goal when creating the CD. I wanted a CD where people could go to for peace."  I would say mission accomplished because Carmel, Elaine and I all are in agreement about Camille Nelson's Lead Me Home and that is that we all have that "Peaceful Easy Feeling" (Eagles) in the end.  Camille's latest release is spiritual food for your mind, body & soul that tastes good and feels right.
It's comes as no surprise to me the success this album is having as Lead Me Home was #8 on classical-crossover billboard chart and #11 on classical charts and then #1 on iTunes and Amazon for New Age, https://www.amazon.com/Lead-Me-Home-Camille-Nelson/dp/B072R1SL8F/ref=sr_1_1?s=dmusic&ie=UTF8&qid=1519843518&sr=1-1-mp3-albums-bar-strip-0&keywords=camille+nelson
https://itunes.apple.com/us/ album/lead-me-home/ id1247950357.
Be sure to check out the stunning music video for "Be Thou My Vision (Featuring Alex Sharpe)" right here: https://www.youtube.com/watch?v=WO7jPBYbQaY.
I'd like to leave you with holy scripture that is sketched into the inside of the CD casing: "Show me thy ways, O Lord.  Teach me thy paths.  Lead me in thy truth, and teach me Thou art the God of my salvation," Psalms 25:4-5.  Lead Me Home is a welcome addition to our home and all I can say is thank you to Camille Nelson for shedding bright light in a world that can be dark sometimes.  God Bless Camille and her Fruit of the Holy Spirit…AMEN!
https://www.camillenelson.com/
By Jimmy Rae + (jrae2@att.net)