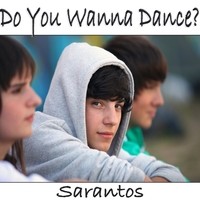 Art always finds a way to bind one's soul with its passion and there is no one born who has enough strength to abandon their soul even at the most demanding situations. Sarantos is one of the best examples of such a talent who has taken his passion from the childhood scribbles on a writing pad to composing soulful music that has often hit the chart busters and engraved his name in many hearts who appreciate and follow his work regularly. Struggling through a tough childhood Sarantos has always learnt the lessons in life the hardest and toughest way, and that is the reason, how without a proper musical backbone, he stands tall only with his amazing songwriting skills and passionate singing.
Starting from managing his own website to releasing a track every week, this multi-tasking songwriter and composer does everything single handedly. Brilliant with the nooks and corners about pop music, Sarantos has always defined music in his own creative way. His newly released track, ' Do You Wanna Dance', is one such track that exfoliates the traditional norms of music and highlights his true flair in a tuneful melodious number. Just like his earlier tracks, this single also bear an authentic and original touch which makes it different and more interesting than any other pop songs.
The single is also associated with a lyrical video which portrays Sarantos, singing while a quick, appropriate story revolves around in the background. Based on the themes of teenage love and love at first sight, this song very well depicts the dilemma and confusion faced by the young youths when they finally approach the woman they love. The song starts over a fast one liner, 'Show me a sign, can you please be mine,' which eventually summarizes and glues its audience into a beautiful tale of teenage love, tinted blushes and pleasing memories.
Just as Sarantos has always claimed about his songs, the tunes and melody has a unique taste of his avid imagination. Sarantos cleverly lips the words in a smoothened form of narrative that is equally ear-pleasing and attractive. Anyone watching the video or listening to the song can easily notice the amount of time and hard work that is embedded into it. Though the melody has slight digitalization over the tune and background score, the music overall adds to the mesmerizing effect which is enjoyable and satisfying.
Being the producer himself, Sarantos has taken immense effort to enhance the quality of the video and audio file which makes the track entertaining and like-able for the audience. Driven by passion and strengthened by relate-able lyrics this song 'Do You Wanna Dance,' brings forth the power of moments and memories that everyone desires and eventually enjoys to visit.
Sarantos is surely a genius when it comes to writing and composing and as he progresses with each of his songs, he just gets better and better with his crafts.Similar to his earlier songs, 'Above the Clouds', 'Dreamer' and 'What If I never See You Again', this single track has every ounce of quality and rhythm to allure a huge fan following and out shine all his previous records.
9.5/10 Stars
– Jess Smith