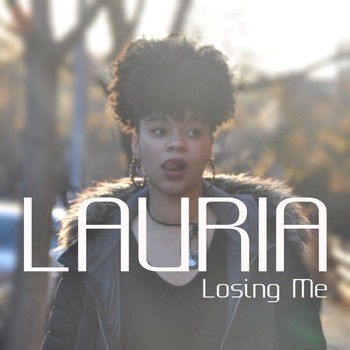 In her spellbinding new single "Losing Me," the artist known only as Lauria (born with the elegant moniker of Florie-Laure Zadigue Dubé) delivers a captivating and thoughtful ballad that reflects the colorfully diverse emotions that come with disconnection and brutal self-awareness in a unique way that her contemporaries could stand to learn a lot from. I wasn't familiar with her work prior to listening to this song during this past week, but it hasn't taken me very long to come to the conclusion that not only is Lauria one of the more thought-provoking and curious artists I've listened to this year, but also one of the more enigmatic.
https://ar.napster.com/artist/lauria/album/losing-me
There's so many layers to "Losing Me" that deconstructing it almost requires the same attention that analyzing a multi-chaptered novella or short film would demand. Like an epic story, the tones and textures of the song can be sorted out from each other, and when you do this, you're able to appreciate and see just how calculated her style of writing and performing really is. Each one of these tones, from the majesty of the piano to the fragile stumbling of the percussion, is like an individual character in the story who has their own identity and set of intentions to share with us. Even as she melancholically describes slipping away from someone who once was connected to her in complete synchronicity mentally, spiritually and romantically, there's a haunting undercurrent that is somewhat inspirational and gives off a vibe that even when she's hurting the most, Lauria will always find a way to shake off the negativity and keep moving. When you're hurting terribly, and deep in the gloomy depression that heartache ushers in beside itself, hearing this most relatable message being "Losing Me" can almost have the same effect that a big hug from a close friend can. It's like there's someone else there who understands us and the pain that we're enduring right now, and in that moment, things don't look or feel as bad as they did a second ago. That is, without question, the most potent medicine in the world right there.
Although you could quite possibly consider it to be an elegy at its center, "Losing Me" is nevertheless an incredibly poignant and well-produced single from an artist who has more than her fair share of talent to share with all the world around her. The potential she's got is unmistakable, and if she's got more material that can be as effective and artfully arranged as this song, it's safe to say that she can make herself comfortable in the American pop music scene, because she's going to be around for a very long time to come. I cannot wait to hear more from her and look forward to the debut of a full-length album full of content similar to this. Even if it takes her a minute to fully draw together a cohesive piece for us to relish, something tells me that it will be well worth the wait to see what this exciting new artist has to bring to the table.
Thomas Patton, III