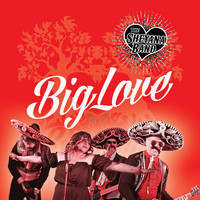 Have you ever been to Australia, Tasmania, or The United Kingdom? One thing is certain, the recent death of world-renowned Chef, Storyteller, and Traveler Anthony Bourdain has rocked the entire world as it relates to cultures being understood, new faces being met, and new places being seen. Many times, Australia, Tasmania, and The United Kingdom were displayed in those shows, and for the traveler, it felt like being in the same room watching new cultures evolve. In travelling, sometimes music is even involved and witnessed. And with that being said, it is important to showcase The Sheyana Band as they have released an amazing album called, "Big Love." The Sheyana Band has musical backgrounds found in Australia, Tasmania, and London, United Kingdom! But who are the Sheyana Band?
The Sheyana Band consists of native Tasmanian Singer, Songwriter, and Guitarist Sheyana Wijesingha; Guitarist/Vocalist Scott Mainwaring; Bassist Dan Jeffrey; and Drummer/Percussionist Beau Thomas. The new album, 'Big Love,' is a blend of Southern Rock, Rockabilly Blues, Acoustic Soul, and Folk all wrapped into one. At first glance, the album 'Big Love' consists of 14 eclectic and moving songs that were impressively penned by Wijesingha. Intricate, heartwarming, and truth are all great words to add to the feelings that 'Big Love' caused upon the first listen as the amazing voice sparkled thru very much like a Sheryl Crow, Bonnie Raitt, or a Shania Twain: And it ALL works!
The album opens with the first four songs: The album title, 'Big Love, Blindside, Honesty, and Keep the Change.' Wijesingha takes us on a journey that feels like the process of packing up and moving to an unknown world with 'Big Love.' 'Big Love' has a proper guitar and amazing B-3 Organ! "To the Moon and back…To the Silver Moon…Take me back to the time where sweet love was free!" direct lyrics that swing the hips back and forward! 'Blindside,' has that surfer guitar sound and speaks about the love of teenagers, growing along in life…A truly amazing journey of the one love that counted in the teenage years but it is the sweet melody along with the compelling lyrics that keeps the melody stuck in the head even after hearing it. 'Honesty,' comes in and continues the fun journey with a modern sounding Beatles meets Rock! The message is really simple: Say what you mean and keep it all the way honest! Relationships today get lost because of all the lack of honesty and this song is so appropriate with stating what is needed! 'Keep the Change' has a smooth wailing and soaring guitar opening…Sometimes every day goes on and on and changes with time and sometimes over time, we all change and the love as well…A beautiful song that reminds us all of living life to the fullest. Very personal favorite is a very appropriate way to put this song! GREAT STUFF!
The next four songs are very different coming from The Sheyana Band with 'Mr. Jackson, Stories, The Middle and Soul Sister…' 'Mr. Jackson is amazing! The Hammond B-3 Organ along with the in-between solo guitar passes sound like a heavenly choir of angels blasting away! A little like a Ben Howard Band sound meeting Sarah McLachlan with the entire presentation and this song IS and BRINGS Life to the soul…(Highly recommended) 'Stories,' once again pulls at the heart with the dark but rich sounding guitar solo! If tears were strings, there would be a thousand left sitting around with this song alone. "Drugs don't soothe you up in the morning…" opening first sentence of the song already describes the pain of a person trying to make it in a life that seems to have life's ups and downs. This song brings tears to eyes especially because there are so many people today that suffer from those demons. 'The Middle' has that hard rocking edgy sound that has a little taste of Gwen Stefani while also sits in the background with that Shania boldness! "Meet me in the middle," direct lyrics that demands that someone actually meet in the middle or not at all! Go, Girl! Lastly 'Soul Sister,' sounds like B.B. King resurrected for a solo with another personal favorite in this exciting bluesy song! The message is a sad one of a loss and someone that obviously had a lot of love along with a personality that everyone seems to reminisce on this record! Very relaxing of a musical tribute yet the message is a sad one.
The remaining songs, 'Your Will, Borderline, On My Mind, Happy To Be, Red Girl, and Roll Like A Rock,' are all such classy finishes to an awesome amount of art. 'Your Will,' is a song that makes a person hold firm to whatever that they are trying to do in life! "Take your will…Try my love…" direct lyrics that make a person instantly believe in themselves and also makes them realize that they have a support system! 'Borderline,' is a song where a person is trying to figure out how to make someone happy or even figure out how to make sense out of life…A message from a song that expresses something that everyone has been through once or twice in life! 'On My Mind,' is another truly magical song that screams the Grateful Dead as it has that extended intro that brings life into the body! But it is that song that speaks about the perils that couples go through and yet begin on another journey together. "Sweet summertime….Down by the river…I got you on my mind…" Beautiful direct lyrics that make the heart beat faster and faster…'Happy to Be,' has a very Bonnie Raitt and Shania Twain mixed in groove! A person that is just happy in love with the simplest of pleasures from that special someone! Love will make you do a lot of things you never ever expected and the fun backing choir on this song causes you to sing along! 'Red Girl,' has Deep South blues Bobby Rush meets Alabama Shakes yet it is all original in the presentation by The Sheyana Band! 'Red Girl' has the confidence that every woman in the world wishes they could have! This girl must have been something else because in this song, she has everyone fighting to get her attention! Lastly, the ending of the album, 'Roll Like A Rock,' is the class finishing that has a Reo Speedwagon feel at first listen sounds like a Super Bowl classic performance! A proper ending to a fantastic album!
The Sheyana Band have a ton of sound while a lot of experience and whatever part of the world that they may be playing in, it is an excellent idea to look them up as they have so much sound that one can't help to really pay attention, while also dance along! This album is a precious gem that has launched a new fan! I highly recommend this album and suggest that you should find a way to go down under and catch them in action somewhere soon!
https://www.facebook.com/thesheyanaband/
10/10 Rating
K.Tibbs