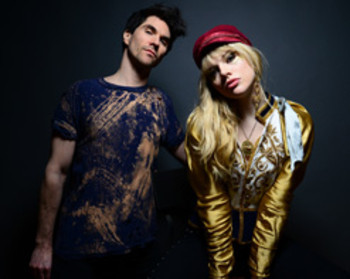 The story of Scarlet Sails begins with one massive leap of faith by Russian-born singer Olya Viglione. At the age of 21, she left the motherland with the American dream on her mind and The Big Apple in her sights. She found herself in the eclectic scene of the Lower East side, playing keyboard and touring with Jesse Malin where she shared the stage with the likes of Urge Overkill, Clem Burke of Blondie, and Wayne Kramer. But one night on the Bowery, she met Brian Viglione; an encounter that would change both of their lives forever.
Up until this moment, Brian had been known as the drummer and founding member of legendary Boston "Brechtian Punk-Cabaret" outfit, The Dresden Dolls. The Dolls' career saw them touring theater circuits around the world in the company of Nine Inch Nails, Cyndi Lauper, and Panic! At The Disco, as well as releasing three studio albums, a live album, and two concert DVDs with Roadrunner Records. Since The Dresden Dolls, the Boston native has worked on numerous collaborations including joining legendary punk band Violent Femmes and performing drums on Nine Inch Nails' sixth album Ghosts I-IV.
http://www.scarletsailsband.com/
Brian was the catalyst Olya needed to bring her songs to life, and with the addition of guitarist Mark Kohut and bassist Kevin Jones, Scarlet Sails were born. The band's name pays homage to the classic 1923 adventure novel by Alexander Grin, which tells the tale of a young girl who dreams of a prince sailing in under scarlet sails to take her away, and shines in explaining how it is in our power to make little miracles happen.  It's a story about dreams coming true even in the most unlikely of circumstances. The book was a childhood favorite of Olya's, and reminded her of the Russian saying that goes "the how you name your ship, is how it shall sail…" When it was time to set her own course with her music, it was the perfect choice for her new project.