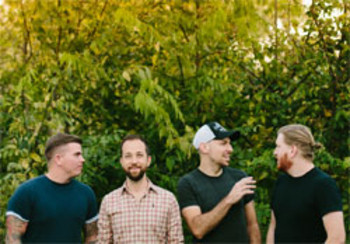 After a two-decade run as one of the most thoughtful, challenging, and musically inventive pop-punk bands in America, here's what we've learned about Punchline: never, ever think you've got these guys pegged. They've got energy and attitude to burn, but they're also accomplished songwriters with adventurous spirits and ambitious goals, and their songs don't conform to expectations. And Lion, their eighth and latest album, demonstrates that their bag of tricks is nowhere near exhausted.
Take "Friend From The Future", the kickoff track and optimistic, uplifting statement of purpose. At first, it seems like the sort of straightforward pop-punk shouter that the Pittsburgh, PA quartet does so well. That it is, but it's also something much subtler. Listen to the clever backing vocal parts, the high harmonies weaved into the track, the auxiliary percussion, the breakdowns and buildups, the careful twists and turns and neatly-sculpted contours of the composition, and you'll realize: nothing here is typical. These are modest guys, and they won't say so, so we'll say it for them – when you're listening to Punchline, you're in the presence of masters.
Longtime followers of Punchline don't need to be told. They already know about the chances the group has taken and the pivots these musicians have made – from the scruffy thrills of the late '90s self-released albums, to the pure confidence of 37 Everywhere on Fueled By Ramen, to the poetic quality, eclecticism, and embrace of electronics on the recent albums. Thrilled, released in 2015, earned the band plaudits from AltPress ("absurdly memorable"), New Noise ("full of songs you'll want to ingest, and digest, and repeat for days to come"), idobi ("lyrically powerful"), and many others. Lion, which features guest appearances from Anthony Raneri of Bayside and Matt Theissen of Reliant K, is certain to continue the winning streak.